BECOME A STAR
PIGGYBANK®FUN
d

MANAGER™
Join OINK!'s fab business game, the
PIGGYBANK® Fantasy Stock Exchange™
supported in real time by the
London Stock Exchange!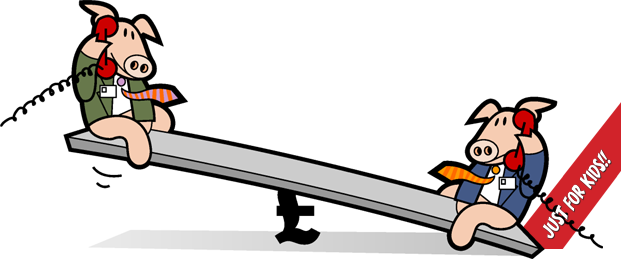 REGISTER FREE
TO PLAY & WIN!

Top Trader Wins £250
Hamleys Voucher

Four runners up get
fab PIGGYBANK® prizes!

TOP TRADERS
Track Your Share News

BBC Business News

Trump says Air Force One Boeing order should be cancelled (Tue, 06 Dec 2016 17:06:02 GMT)
Donald Trump says he wants to cancel the "out-of-control" order with Boeing for presidential planes.

Custard creams no longer take the biscuit as sales crumble (Tue, 06 Dec 2016 14:07:39 GMT)
Sales of custard creams and digestive biscuits are crumbling as Britons opt for healthier and more indulgent treats.

McCluskey triggers early Unite general secretary election (Tue, 06 Dec 2016 17:29:48 GMT)
Len McCluskey will step down next April as leader of Unite, but stand immediately for re-election.

The idiot's guide to spread betting (Tue, 06 Dec 2016 13:45:40 GMT)
Spread betting on financial markets will be more tightly regulated by the financial watchdog.

Samsung triumphs over Apple in US Supreme Court patent row (Tue, 06 Dec 2016 17:14:56 GMT)
US Supreme Court rules in favour of Samsung in patent dispute with Apple over iPhone design.

Lego appoints British boss in brand expansion (Tue, 06 Dec 2016 16:46:08 GMT)
Lego, the Danish toy maker, aims to forge more partnerships to build its brand as it appoints a new chief executive.

Crackdown on financial spread betting proposed by FCA (Tue, 06 Dec 2016 11:51:34 GMT)
Stricter rules for firms offering financial spread betting products are proposed by the watchdog.

'Millions of Dailymotion account details taken' (Tue, 06 Dec 2016 13:58:57 GMT)
More than 85 million accounts at video sharing site Dailymotion have been hacked, Leakedsource says.

Train and track operations to be reunited in rail revamp (Tue, 06 Dec 2016 10:51:25 GMT)
The way England's railways are run is set for a major overhaul, the transport secretary says.

Brexit: EU negotiator says 'time's short' for reaching deal (Tue, 06 Dec 2016 15:57:02 GMT)
A Brexit deal will need to be reached by October 2018, EU negotiator Michel Barnier says.

UK government leases Canary Wharf offices from Barclays (Tue, 06 Dec 2016 14:06:53 GMT)
The UK government agrees a deal to sublet a Barclays office in London's Canary Wharf for about 5,700 civil servants.

German nuclear firms 'can claim compensation over shutdown' (Tue, 06 Dec 2016 13:09:40 GMT)
German energy suppliers can claim compensation over the phasing out of nuclear power, a court says.

Finance sector 'paid £71.4bn in tax' (Tue, 06 Dec 2016 11:42:12 GMT)
Report finds the UK's financial services sector paid £71.4bn in tax last year - more than 10% of all tax receipts.

Amazon unveils plans for grocery shop with no checkouts (Mon, 05 Dec 2016 18:29:02 GMT)
Customers will be able to select items and walk out without waiting to pay at the Amazon Go shop.

FTSE 100 rises but spread betting firms dive on FCA plans (Tue, 06 Dec 2016 17:03:35 GMT)
Shares in financial spread betting firms plunge after the Financial Conduct Authority proposes stricter rules for the sector.

Facial scan app wants to get to know you (Tue, 06 Dec 2016 09:59:10 GMT)
Augmented reality app Blippar can now recognise the faces of 70,000 public figures.

Indian app firms cash in on Modi's rupee note switch (Tue, 06 Dec 2016 10:38:47 GMT)
Enterprising Indians are seeing opportunity after almost 90% of bank notes were withdrawn.

China's hi-tech bike hire startups (Sun, 04 Dec 2016 22:11:14 GMT)
China's tech giants are backing sophisticated bike hire as a solution to the country's congested roads.

DNA testing at work: One company's unusual policy (Sat, 03 Dec 2016 00:46:58 GMT)
BBC News visits a travel company using DNA testing to challenge its own workplace culture.

CEO Secrets: TripAdvisor co-founder shares his business tips (Sun, 04 Dec 2016 08:10:55 GMT)
Langley Steinert, the co-founder of TripAdvisor, shares the business advice he has learned.

Link between Shenzhen and HK stock markets goes live (Mon, 05 Dec 2016 01:54:43 GMT)
A link between the Shenzhen and Hong Kong stock exchanges starts up.

A lack of cash is forcing rural Indians to barter (Sun, 04 Dec 2016 23:34:18 GMT)
Rural Indians are being forced to barter for groceries after the government withdrew larger banknotes.

Prepare for disappearing credit cards (Sun, 04 Dec 2016 00:49:48 GMT)
The plastic credit card is being replaced by invisible payments, the boss of Barclaycard says.

Vinyl sales made more than downloads last week (Tue, 06 Dec 2016 12:25:31 GMT)
For the first time, vinyl albums make more money for the music industry than downloads.

Hong Kong rainbow lions spark LGBT rights debate (Tue, 06 Dec 2016 14:15:50 GMT)
Why two rainbow-coloured lions have sparked a debate about LGBT rights in Hong Kong.

Len McCluskey (Tue, 06 Dec 2016 16:27:54 GMT)
Len McCluskey is general secretary of Unite, the UK's biggest union. We chart his political roots and his support for Jeremy Corbyn's leadership of the Labour Party.

Chatbot sexism (Mon, 05 Dec 2016 23:00:40 GMT)
Why do so many artificially intelligent chatbots have female names and avatars?

Draw it (Tue, 06 Dec 2016 12:33:46 GMT)
We want you to show us your interpretation of the business stories that have affected you this year.

Reality Check (Tue, 06 Dec 2016 09:35:29 GMT)
Two stories in the past week have reported contradictory conclusions about the cost of Christmas dinner.

Troubled times (Mon, 05 Dec 2016 11:58:48 GMT)
Italy's struggling banks now face added uncertainty after Prime Minister Matteo Renzi's heavy referendum defeat.
Post your results on Twitter & Facebook!