BECOME A STAR
PIGGYBANK®FUN
d

MANAGER™
Join OINK!'s fab business game, the
PIGGYBANK® Fantasy Stock Exchange™
supported in real time by the
London Stock Exchange!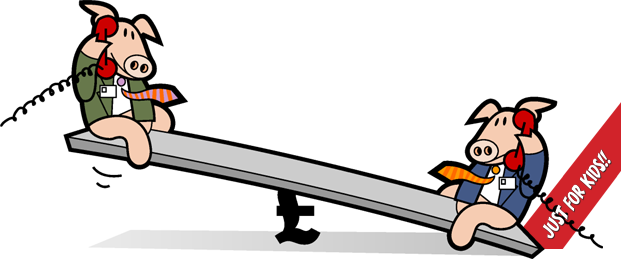 REGISTER FREE
TO PLAY & WIN!

Top Trader Wins
£250 Voucher

Four runners up get
fab PIGGYBANK® prizes!

TOP TRADERS
Track Your Share News

BBC Business News

Netflix tunes into subscriber surge (Mon, 22 Jan 2018 22:32:40 GMT)
The streaming service adds more than 8 million members in the last three months of 2017.

JLR cuts Land Rover production amid diesel uncertainty (Mon, 22 Jan 2018 19:51:37 GMT)
The UK's biggest car maker will temporarily cut output amid Brexit fears and tax hikes on diesels.

Rupert Murdoch: Facebook should pay for news (Mon, 22 Jan 2018 23:27:08 GMT)
Rupert Murdoch says newspapers are not being properly paid by the social network for their content.

Tesco to cut 1,700 shop floor jobs (Mon, 22 Jan 2018 16:26:02 GMT)
The UK's biggest supermarket aims to make £1.5bn in cost savings by 2020.

Amazon opens a supermarket with no checkouts (Mon, 22 Jan 2018 11:49:53 GMT)
Amazon opens its first grocery store without cashiers to shoppers in Seattle on Monday.

IMF: Global economic outlook is bright (Mon, 22 Jan 2018 15:17:14 GMT)
The IMF's economic forecast says prospects for the global economy have picked up, especially for Europe and Asia.

Betting shares tumble on report of cut to machine stakes (Mon, 22 Jan 2018 15:21:28 GMT)
William Hill and Ladbrokes are hit by suggestions that the maximum bet on machines could be slashed.

Vauxhall: Unite union chief in 'frank exchange' with PSA (Mon, 22 Jan 2018 13:49:37 GMT)
Union leader Len McCluskey and the boss of the car company's owner PSA say Monday's talks were "frank".

Davos 2018: Bosses confident global growth will continue (Mon, 22 Jan 2018 17:35:44 GMT)
Some 57% of chief executives expect the global economy to expand this year, says PwC.

Only one in four trust social media, says survey (Mon, 22 Jan 2018 09:41:54 GMT)
Two-thirds of Britons think platforms like Facebook and Twitter should be more tightly regulated, according to a survey.

More small businesses get access to Financial Ombudsman (Mon, 22 Jan 2018 11:45:38 GMT)
Businesses with up to 50 employees will soon be able to use the Ombudsman Service to settle disputes with banks.

Theresa May vows to stop private sector 'pension abuse' (Sun, 21 Jan 2018 13:59:39 GMT)
Theresa May says the government will stamp out abuses of workers' pensions in failing companies.

CBI calls for UK to remain in a customs union with EU (Sun, 21 Jan 2018 12:52:16 GMT)
A post-Brexit customs union is best for economic growth, the CBI's director general says.

Donald Trump and the US economy in six charts (Sat, 20 Jan 2018 00:22:52 GMT)
How has US growth, jobs, stocks and trade fared in the first year of Donald Trump's presidency?

'Don't be afraid to ask for help' (Mon, 22 Jan 2018 00:05:23 GMT)
'Don't be afraid to ask for help', says Jen Atkinson, the CEO of luxury travel company ITC.

The Malaysian region that became a hardware hub (Mon, 22 Jan 2018 00:02:14 GMT)
The small Malaysian state of Penang is punching well above its weight in the tech world through hardware manufacturing.

Macron says 'single market' membership must include open borders (Sat, 20 Jan 2018 05:05:38 GMT)
The French president said a special trade deal between the UK and EU is possible.

Hyperloop: A visit to the test site of Virgin's train of the future (Fri, 19 Jan 2018 23:21:08 GMT)
Can a futuristic tube-based transport scheme that shoots pods through a vacuum become a reality?

How the zipper became a million dollar idea (Fri, 19 Jan 2018 00:45:17 GMT)
The BBC's Aaron Heslehurst explains how the zipper became a million dollar idea.

Fighting for flexible working hours (Fri, 19 Jan 2018 00:01:37 GMT)
Less than half of parents feel flexible working is an option in their workplace.

Fishermen's app: 'We can go direct to the consumer' (Fri, 19 Jan 2018 11:17:13 GMT)
The app that's allowing Africa's fishermen to sell their catches directly to restaurants.

'If I tried to escape they said they would kill me' (Thu, 18 Jan 2018 12:00:25 GMT)
"Peter" came to Britain looking for a new life but instead he was held captive and forced to work for nothing.

L'Oreal hijab model pulls out of campaign after backlash (Mon, 22 Jan 2018 16:09:49 GMT)
Beauty blogger Amena Khan apologises after tweets she wrote in 2014 are branded as 'anti Israel'.

Kim Dotcom sues New Zealand government for damages (Mon, 22 Jan 2018 12:01:42 GMT)
Kim Dotcom says New Zealand is liable for destruction to his business and property.

Exiled for being Jewish (Mon, 22 Jan 2018 00:10:40 GMT)
As a 19-year-old Adam Ringer was kicked out of Poland during an anti-Semitic purge, but he returned two decades later to become a key business leader.

Switch on, switch off (Fri, 19 Jan 2018 00:46:35 GMT)
As cars become more automated, some experts worry that we are becoming complacent drivers.

Flexible working (Fri, 19 Jan 2018 00:02:34 GMT)
The mother who had to give up her job to fit in childcare

Modern day slaves (Thu, 18 Jan 2018 12:01:13 GMT)
There are 13,000 modern slavery victims in the UK, the BBC's Nina Warhurst meets one man who managed to escape.

Ukraine's secret (Thu, 18 Jan 2018 00:40:34 GMT)
Ukraine's IT sector is flourishing despite continuing conflict with Russian-backed rebels in the east.

Better balance (Wed, 17 Jan 2018 00:01:59 GMT)
As the number of employees working over 48 hours a week rises, some companies are experimenting to find better work-life balance.
Post your results on Twitter & Facebook!