BECOME A STAR
PIGGYBANK®FUN
d

MANAGER™
Join OINK!'s fab business game, the
PIGGYBANK® Fantasy Stock Exchange™
supported in real time by the
London Stock Exchange!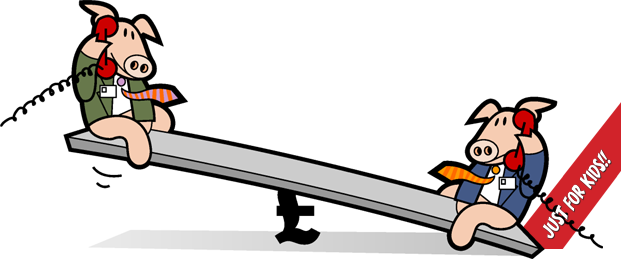 REGISTER FREE
TO PLAY & WIN!

Top Trader Wins £250
Hamleys Voucher

Four runners up get
fab PIGGYBANK® prizes!

TOP TRADERS
Track Your Share News

BBC Business News

Jones Bootmaker sale saves 840 jobs (Sun, 26 Mar 2017 08:32:32 GMT)
The bulk of the footwear chain is sold to investment firm Endless, saving 72 stores.

Uber suspends self-driving cars after Arizona crash (Sun, 26 Mar 2017 07:01:36 GMT)
Images show Uber vehicle on its side after apparent high-impact crash with ordinary driver.

Pensions mistakes of the past must be avoided, says John Cridland (Fri, 24 Mar 2017 20:39:05 GMT)
The author of a major pensions review tells the BBC that the government must avoid past pension mistakes.

Oil nations look at extending supply cut (Sun, 26 Mar 2017 18:14:37 GMT)
Major oil producers consider a six-month extension to production cuts in a fresh bid to boost prices.

WhatsApp must not be 'place for terrorists to hide' (Sun, 26 Mar 2017 16:28:04 GMT)
Messaging apps which are encrypted must be accessible to those fighting terror, the home secretary says.

High cost credit products must be tackled, say Lords (Sat, 25 Mar 2017 00:08:14 GMT)
The Financial Exclusion Committee says banks are failing the customers who need them the most.

Petrol and diesel prices cut amid pressure on retailers (Fri, 24 Mar 2017 16:06:17 GMT)
Supermarkets will cut 2p off the price of a litre of petrol and diesel this weekend.

Ofcom plans instant payback for broadband woes (Fri, 24 Mar 2017 16:06:31 GMT)
Customers who suffer poor service could get automatic payouts under Ofcom's plan.

New £1 coin: Tesco to leave trolleys unlocked (Fri, 24 Mar 2017 19:57:17 GMT)
The UK's biggest supermarket will keep trolleys unlocked while it converts them to the new £1 coin.

Pearson boss sees pay boost despite firm's struggles (Fri, 24 Mar 2017 16:28:38 GMT)
The publisher's boss sees his pay package rise 20% in 2016 despite a difficult year for the firm.

Hermes parcels sorted in makeshift Northampton car park depot (Fri, 24 Mar 2017 13:54:26 GMT)
Pallets included packages from major brands including Next, H&M, Panasonic and Groupon.

Cycle courier wins holiday pay battle (Fri, 24 Mar 2017 13:52:15 GMT)
An employment tribunal rules that a self-employed cycle courier for Excel was actually "a worker".

Eurozone growth nears six-year high, survey data suggests (Fri, 24 Mar 2017 11:54:15 GMT)
Growth in France and Germany help the bloc's economic recovery "surge higher", a survey says.

Trump administration approves Keystone XL pipeline (Fri, 24 Mar 2017 18:05:38 GMT)
The State Department says the project, blocked by Barack Obama, is in the national interest.

Mortgage approvals by banks falls to lowest for three months (Fri, 24 Mar 2017 14:04:09 GMT)
The number of home loans in February fell to the lowest figure since November, according to UK banks.

It's miraculous, says South Africa's spinach king (Sun, 26 Mar 2017 08:20:49 GMT)
Lufefe Nomjana grows, bakes and sells healthy spinach bread and juices in his local community.

Why mix earthworms and cocoa shells? (Fri, 24 Mar 2017 22:29:48 GMT)
The Ivorian farmers benefiting from a unique, but labour intensive, blend of compost.

Robotic barman pours Rory a pint (Fri, 24 Mar 2017 16:57:26 GMT)
The BBC's technology correspondent Rory Cellan-Jones gets a beer poured for him by a robotic barman - but how long does it take?

Zimbabwe's cash-strapped tobacco farms (Fri, 24 Mar 2017 12:34:10 GMT)
Small-scale tobacco farmers in Zimbabwe have little to invest due to poor profit margins and a weak economy.

Red Nose Day challenge: 'I feel naked without my beard' (Fri, 24 Mar 2017 10:19:48 GMT)
Jeremy Cook, chief economist at World First, agreed to have his beard shaved off for Comic Relief.

'We're looking for business deals outside Europe' (Fri, 24 Mar 2017 00:05:43 GMT)
The director of a safety footwear company says the firm is focusing on new deals outside Europe.

Kids and meditation - it's a business, of course (Fri, 24 Mar 2017 00:04:04 GMT)
We find out why some parents in Asia are paying for meditation classes in the hope their kids will cope better at school and in life.

Could this be Britain's cheapest supermarket? (Thu, 23 Mar 2017 05:25:24 GMT)
The average price of an item at Nifties in Dover is 60p.

'Backward on pay' (Sun, 26 Mar 2017 00:34:24 GMT)
BBC News asked women how they had coped financially while they were on maternity leave.

Cheaper flights (Sun, 26 Mar 2017 01:50:44 GMT)
A new budget airline from the owner of British Airways may not make reaching distant destinations cheaper.

New broom (Fri, 24 Mar 2017 00:07:35 GMT)
Theo Leggett examines what changes new owners Liberty Media might bring in to re-energise Formula 1.

Ads in your eye (Fri, 24 Mar 2017 00:13:43 GMT)
How new technologies are transforming outdoor advertising.

What Next for shops? (Thu, 23 Mar 2017 13:21:33 GMT)
Next - like its rivals - is battling many problems - unlike them it has spelt them out in full.
Post your results on Twitter & Facebook!