BECOME A STAR
PIGGYBANK®FUN
d

MANAGER™
Join OINK!'s fab business game, the
PIGGYBANK® Fantasy Stock Exchange™
supported in real time by the
London Stock Exchange!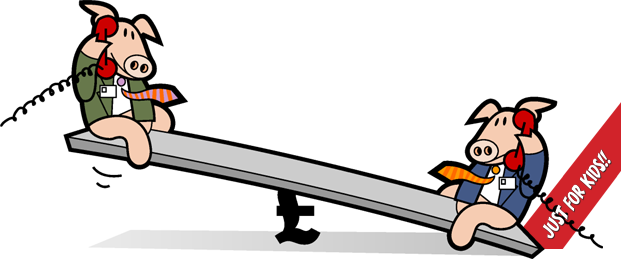 REGISTER FREE
TO PLAY & WIN!

Top Trader Wins
£250 Voucher

Four runners up get
fab PIGGYBANK® prizes!

TOP TRADERS
Track Your Share News

BBC Business News

Barclays boss Jes Staley faces penalty for 'conduct breach' (Fri, 20 Apr 2018 07:34:27 GMT)
Regulators the FCA and PRA allege Jes Staley breached rules in trying to identify a whistleblower.

Poorest families 'going without food or power' (Fri, 20 Apr 2018 07:38:49 GMT)
Citizens Advice says hundreds of thousands of UK families cannot afford to put money in their meters.

Premier League club revenues soar to £4.5bn (Thu, 19 Apr 2018 23:00:55 GMT)
England's top 20 teams posted record revenues and also bounced back into profit in the 2016-17 season.

Royal Mail boss Moya Greene to retire (Fri, 20 Apr 2018 07:01:38 GMT)
The Canadian who oversaw the privatisation of the postal service will step down in June.

Brexit divorce cost uncertain, say auditors (Thu, 19 Apr 2018 22:56:31 GMT)
The National Audit Office says the Treasury's estimate is "reasonable" but could easily go up or down.

Australia bank inquiry ousts first executive amid fee scandal (Fri, 20 Apr 2018 01:23:36 GMT)
The head of the nation's largest wealth manager steps down over a damaging fee scandal.

House of Fraser calls in KPMG to draw up turnaround plan (Thu, 19 Apr 2018 16:07:41 GMT)
The department store chain has asked KPMG to look at options which may involve store closures and job losses.

Shire rejects £43bn offer from Japan's Takeda (Fri, 20 Apr 2018 06:31:07 GMT)
Takeda says it is in talks with Shire about a potential bid for the London-listed drug maker.

Debenhams sales hit by 'Beast from the East' (Thu, 19 Apr 2018 09:39:12 GMT)
Profits crash at the department store chain as freezing weather takes its toll on sales.

PPI complaints soar as Arnie tells people to 'do it now' (Thu, 19 Apr 2018 10:26:30 GMT)
The number of complaints about PPI has jumped, following adverts featuring Schwarzenegger .

Why is Billy Bragg at the Bank of England? (Thu, 19 Apr 2018 11:29:37 GMT)
The last time the singer was at the Bank he was "kettled" - this time he's talking economic reform.

Questions over Conservative donor tax probe (Thu, 19 Apr 2018 13:47:34 GMT)
HMRC denies refusing to assist with a probe into a French telecoms firm because it had been a Tory donor.

Meet the robots that can pick and plant better than we can (Thu, 19 Apr 2018 23:03:35 GMT)
Farmers are turning to robots to plant seedlings and pick produce because of human worker shortages.

The office where the average age of employees is just 25 (Thu, 19 Apr 2018 10:31:36 GMT)
Staff say they focus on a "life-life" balance, not a work-life balance.

Why India's Paytm isn't afraid of WhatsApp (Wed, 18 Apr 2018 23:44:23 GMT)
India's youngest billionaire, Vijay Shekhar Sharma, says Indian firms are ready to challenge the West.

What happens if you ban plastic? (Wed, 18 Apr 2018 23:14:53 GMT)
Maharashtra in India has imposed a wide-ranging ban on plastic. How does that affect producers?

Justin Trudeau wants 'seamless' UK trade deal after Brexit (Wed, 18 Apr 2018 11:53:46 GMT)
Canadian Prime Minister Justin Trudeau wants a deal that will "flip over the day after Brexit".

Bitcoin peaks and falls become race tracks (Wed, 18 Apr 2018 09:37:22 GMT)
The rapidly changing value of crypto-currency has been turned into a mobile game.

'Renting is cheaper' as house prices 'too ridiculous' (Tue, 17 Apr 2018 08:05:23 GMT)
Leah Wilson, who is in her early 20s, says she struggles to save for a house.

Going for a helicopter pub crawl in Australia (Mon, 16 Apr 2018 23:03:31 GMT)
Tourism operators are offering a novel way to find a beer in Australia's vast outback.

Solar sailing (Thu, 19 Apr 2018 23:14:04 GMT)
How can you create public transport in the jungle without polluting it? The isolated Achuar peoples of Ecuador have created an ingenious solution.

Robo farmers (Thu, 19 Apr 2018 23:04:08 GMT)
Farmers are working on robotic solutions due to a shortage of human workers to pick difficult crops.

Recession risk (Wed, 18 Apr 2018 23:09:17 GMT)
The World Trade Organization faces challenges on two fronts that threaten the way it does business.

Heartbreak hotel (Wed, 18 Apr 2018 21:31:38 GMT)
Chris Richardson's life fell apart after the bank took his hotel and sold it to its own property division.

Distraction tactics (Tue, 17 Apr 2018 23:05:31 GMT)
What should parents say to teenagers who seem to be playing on their computers more than revising for exams?

Ninjas and nanobots (Mon, 16 Apr 2018 23:33:51 GMT)
Is the fusion of biology and technology speeding us towards a synthetic future?

Tentative steps (Sun, 15 Apr 2018 23:20:49 GMT)
The fitness tracking firm, co-founded by James Park, has been struggling in a more competitive market.

Braking news (Sat, 14 Apr 2018 23:50:15 GMT)
Automatic braking systems could save 1,000 lives on the UK's roads over the next decade.

Coffee trends (Fri, 13 Apr 2018 20:48:59 GMT)
Coffee in five charts: How coffee drinking varies around the world.

Bug hunters (Thu, 12 Apr 2018 23:00:25 GMT)
Big rewards are available for hackers who can spot when websites have got their coding wrong.
Post your results on Twitter & Facebook!