BECOME A STAR
PIGGYBANK®FUN
d

MANAGER™
Join OINK!'s fab business game, the
PIGGYBANK® Fantasy Stock Exchange™
supported in real time by the
London Stock Exchange!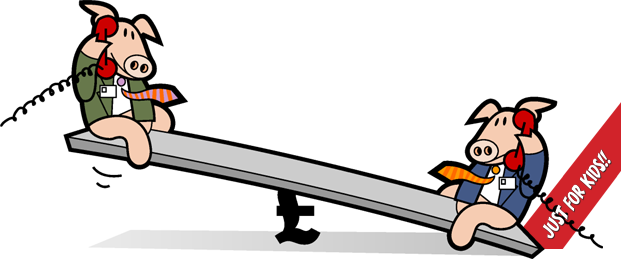 REGISTER FREE
TO PLAY & WIN!

Top Trader Wins £250
Hamleys Voucher

Four runners up get
fab PIGGYBANK® prizes!

TOP TRADERS
Track Your Share News

BBC Business News

Nissan to build new models in Sunderland (Thu, 27 Oct 2016 14:39:22 GMT)
Nissan says it will build two new models at its Sunderland plant after government "support and assurances".

UK economy grows 0.5% in three months after Brexit vote (Thu, 27 Oct 2016 14:15:50 GMT)
The UK economy grew by a better-than-expected 0.5% in the three months following the Brexit vote.

Tata hits back at Cyrus Mistry claims (Thu, 27 Oct 2016 13:20:05 GMT)
Tata has hit back at its former chairman, Cyrus Mistry, claiming he made "malicious allegations".

Night-time alerts 'target impulse buys' (Thu, 27 Oct 2016 12:41:27 GMT)
Emails from retailers leave people with mental health problems open to financially-crippling impulse buys, a report says.

Twitter to cut jobs as revenue growth slows (Thu, 27 Oct 2016 12:44:20 GMT)
Twitter plans to cut 9% of its workforce after reporting a sharp slowdown in revenue growth.

Co-operative Energy pays £1.8m to compensate customers (Thu, 27 Oct 2016 11:39:24 GMT)
One of the UK's smaller energy suppliers, Co-operative Energy, pays £1.8m to its customers after bills were delayed and online accounts were blocked.

Extend maternity pay and free childcare says business group CBI (Thu, 27 Oct 2016 11:57:29 GMT)
The business lobby group the CBI calls to extend free childcare and maternity pay in Autumn Statement.

EU-Canada trade deal: Belgians break Ceta deadlock (Thu, 27 Oct 2016 13:49:27 GMT)
Belgium's regions agree to back the deadlocked EU-Canada trade deal after all.

Drivers 'face rising insurance bills' (Thu, 27 Oct 2016 00:06:21 GMT)
Motorists are facing higher car insurance premiums than a year ago, a report from the AA suggests.

Deutsche Bank reports profit despite 'tough' environment (Thu, 27 Oct 2016 08:31:09 GMT)
Embattled Deutsche Bank reports a surprise profit for the third quarter of the year.

Barclays sets aside another £600m for PPI claims (Thu, 27 Oct 2016 08:17:05 GMT)
Barclays sets aside an extra £600m to meet PPI claims as it reports a rise in quarterly profits.

GDP data triggers spike in pound (Thu, 27 Oct 2016 11:51:04 GMT)
Stronger-than-expected growth figures push the pound to a one-week high against the dollar.

Samsung operating profit plunges 30% in wake of Note 7 fiasco (Thu, 27 Oct 2016 03:21:21 GMT)
The world's largest smartphone maker Samsung sees its operating profit plunge by 30%, pulled down by the recall of its Note 7 flagship phone.

Australia's Gina Rinehart raises offer for Kidman estate (Thu, 27 Oct 2016 07:14:47 GMT)
Australia's richest woman Gina Rinehart and her Chinese partners raise their bid for the country's largest private landholding, the Kidman estate.

Nissan: There is no special deal for us (Thu, 27 Oct 2016 12:50:05 GMT)
Nissan boss Colin Lawther explains why the company will build two models in Sunderland

Big Bang: The day that made London a financial powerhouse (Wed, 26 Oct 2016 23:04:25 GMT)
Thirty years ago today the City changed for ever after radical new rules were introduced.

Ask Andy: What is GDP? (Wed, 26 Oct 2016 23:06:14 GMT)
As the latest set of gross domestic product (GDP) figures come out in the UK, economics reporter Andy Verity explains what it actually means - against the clock.

Bright hopes for India art start-up (Tue, 25 Oct 2016 23:17:46 GMT)
In India, one start-up called Kulture Shop is bringing together urban artists and turning their designs into home and lifestyle products.

The Heathrow deal, in numbers... (Tue, 25 Oct 2016 10:32:26 GMT)
Richard Westcott takes a look at some of the big numbers behind the Heathrow third runway decision.

Heathrow's tricky landing - in 60 seconds (Tue, 25 Oct 2016 10:32:49 GMT)
BBC News explains the bumpy ride that lasted over a decade, eventually leading to Heathrow airport getting approval for a third runway.

Growing up under Heathrow's flightpath (Tue, 25 Oct 2016 09:24:04 GMT)
At busy times planes fly over Hounslow Heath Infant and Nursery school every minute.

Zac Goldsmith quits as MP over Heathrow third runway (Tue, 25 Oct 2016 19:28:40 GMT)
Conservative MP Zac Goldsmith resigns over the government's support for a new runway at Heathrow.

'Irresponsible' Diet Chef weight loss advert banned (Wed, 26 Oct 2016 09:41:34 GMT)
An advert in which a tearful woman meets a slimmer, happier version of herself is banned.

Will paper receipts become a thing of the past? (Tue, 25 Oct 2016 18:10:45 GMT)
Supermarket giant Tesco has revealed it is trialling a new "digital receipt service", replacing paper receipts.

Big Bang (Wed, 26 Oct 2016 23:02:29 GMT)
Thirty years ago in a single day Big Bang deregulated the City of London, creating a financial sector many believe can withstand anything Brexit can throw at it.

Falling behind? (Thu, 27 Oct 2016 08:37:23 GMT)
Does the falling value of the pound mean that the UK economy has fallen behind France?

God, alcohol, hash (Wed, 26 Oct 2016 23:16:07 GMT)
Life in a monastery involves devotion to contemplation and prayer, but some religious orders also pledge themselves to producing alcoholic drinks and even products extracted from marijuana.

Tata quiz (Thu, 27 Oct 2016 09:12:17 GMT)
A blunt email from Tata's ex-chairman to his former employers has made headlines. But what do you know about what he said?

Smelting pot (Wed, 26 Oct 2016 23:27:01 GMT)
Both US presidential candidates have said they are wary of China's impact on the US, but is China stealing America's jobs?

Growth potential (Tue, 25 Oct 2016 23:00:27 GMT)
Heathrow's third runway may have got the go-ahead, but what expansion plans do the UK's other major airports have?
Post your results on Twitter & Facebook!