BECOME A STAR
PIGGYBANK®FUN
d

MANAGER™
Join OINK!'s fab business game, the
PIGGYBANK® Fantasy Stock Exchange™
supported in real time by the
London Stock Exchange!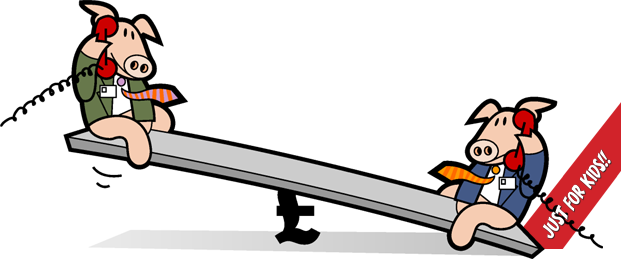 REGISTER FREE
TO PLAY & WIN!

Top Trader Wins
£250 Voucher

Four runners up get
fab PIGGYBANK® prizes!

TOP TRADERS
Track Your Share News

BBC Business News

Jamie Oliver in talks to sell Barbecoa restaurants (Sun, 18 Feb 2018 14:58:49 GMT)
Jamie Oliver group engages real estate experts to evaluate the value of two of his restaurants.

Latvian central bank boss detained by anti-corruption force (Sun, 18 Feb 2018 13:45:50 GMT)
Ilmars Rimsevics has been detained after the anti-corruption agency raided his home and office.

Deadline to return old paper £10 notes fast approaching (Sun, 18 Feb 2018 15:44:49 GMT)
At least £2.1bn worth of old £10 notes need to be spent or exchanged before they cease to be legal tender.

MPs want Brexit fund for UK farmers (Sun, 18 Feb 2018 02:52:36 GMT)
The Environment, Food and Rural Affairs Committee has criticised the lack of clarity for farmers post-Brexit

Rent-a-church spire plan to boost mobile phone coverage (Sun, 18 Feb 2018 09:41:22 GMT)
The government invites churches to let their spires be rented to improve the UK's mobile coverage.

£10,000 proposed for everyone under 55 (Fri, 16 Feb 2018 16:31:54 GMT)
The government should give £10,000 to every citizen under 55, a report suggests.

Uber to report crimes direct to police to boost safety (Fri, 16 Feb 2018 15:23:15 GMT)
The taxi-hailing app will also set up a round-the-clock telephone line to help improve public safety.

Tesco's Cardiff call centre closes with loss of 1,100 jobs (Fri, 16 Feb 2018 14:15:44 GMT)
The supermarket is moving its customer engagement operations to a single site in Dundee.

Mid-earners 'locked out of buying a home' (Fri, 16 Feb 2018 13:15:44 GMT)
The biggest decline in home ownership in the last 20 years has been among middle-income 25 to 34-year-olds.

UK retail sales show weak growth despite gym wear boost (Fri, 16 Feb 2018 12:22:41 GMT)
Rising prices dampened shoppers' spending in January, but sales of sports goods are stronger than usual.

Anger at Google image search 'peace deal' (Fri, 16 Feb 2018 11:36:26 GMT)
The search giant will remove features from its image search to appease Getty Images.

Regulator to investigate energy firm Iresa (Fri, 16 Feb 2018 14:29:04 GMT)
Ofgem will investigate Iresa's treatment of customers following a raft of complaints.

Nirav Modi: Who is India's scandal-linked billionaire? (Fri, 16 Feb 2018 14:47:03 GMT)
His diamonds have been worn by Kate Winslet and Priyanka Chopra but what do we know about Nirav Modi?

US rejects China-led bid for Chicago Stock Exchange (Fri, 16 Feb 2018 05:37:38 GMT)
Regulator's decision is the latest rejection of a Chinese firm's attempt to do business in the US.

Renault asks Carlos Ghosn to stay on as chief executive (Fri, 16 Feb 2018 08:16:17 GMT)
There had been some speculation the carmaker boss would relinquish his role as head of the French firm.

South Africa: the economic challenge (Fri, 16 Feb 2018 00:01:30 GMT)
What are the challenges facing South Africa's new president Cyril Ramaphosa?

Google Chrome launches default ad-blocker (Thu, 15 Feb 2018 13:13:20 GMT)
The latest versions of the web browser will block "annoying intrusive" ads from today.

Standard Life Aberdeen sees £100bn contract axed (Thu, 15 Feb 2018 10:28:29 GMT)
Last year's merger has created competition issues, according to Lloyds and Scottish Widows.

Airbus takes new €1.3bn hit on A400M troop carrier (Thu, 15 Feb 2018 16:05:39 GMT)
The aerospace group has now written off a total of €8bn in losses on the military transport plane.

Why young people can't afford to buy homes (Fri, 16 Feb 2018 13:10:46 GMT)
The biggest decline in home ownership in the past 20 years has been among young people on middle incomes.

A tale of two Indian tech cities (Fri, 16 Feb 2018 00:23:22 GMT)
Hyderabad is giving Bangalore a run for its money as a start-up destination in India.

Why we drive our own buses (Fri, 16 Feb 2018 00:56:58 GMT)
When their local bus services were cut, one group of people decided to set up their own bus company.

How the pneumatic tyre became a million dollar idea (Fri, 16 Feb 2018 00:24:51 GMT)
The BBC's Aaron Heslehurst explains how the pneumatic tyre became a million dollar idea.

Africa's farmer-to-farmer text service (Fri, 16 Feb 2018 13:21:29 GMT)
Offline knowledge-sharing platform WeFarm enables farmers to ask other farmers for advice.

Energy from rubbish to power Addis Ababa (Fri, 16 Feb 2018 12:51:43 GMT)
A new plant in Addis Ababa will convert waste into a source of energy for the city.

Life in the 'golden cage' (Thu, 15 Feb 2018 22:40:11 GMT)
As the wife of a highly skilled immigrant Neha Mahajan is one of the Indian women who is not allowed to work in the US.

Hot on Instagram - but is it art? (Fri, 16 Feb 2018 00:05:48 GMT)
Should social media-friendly experiences designed to make striking photos be considered art?

Spanish woman's 'sexist' rejection letter sparks furore (Thu, 15 Feb 2018 15:13:24 GMT)
An agency in Spain has allegedly rejected a woman for a job on the grounds she was not a man.

Faulty appliances 'cause 60 fires a week' (Thu, 15 Feb 2018 00:17:23 GMT)
Consumer group Which? wants the government to speed up efforts to tackle faulty home appliances.

No charge (Fri, 16 Feb 2018 21:53:43 GMT)
A third of UK car-owners do not have a driveway - so charging an electric car can be difficult.
Post your results on Twitter & Facebook!