BECOME A STAR
PIGGYBANK®FUN
d

MANAGER™
Join OINK!'s fab business game, the
PIGGYBANK® Fantasy Stock Exchange™
supported in real time by the
London Stock Exchange!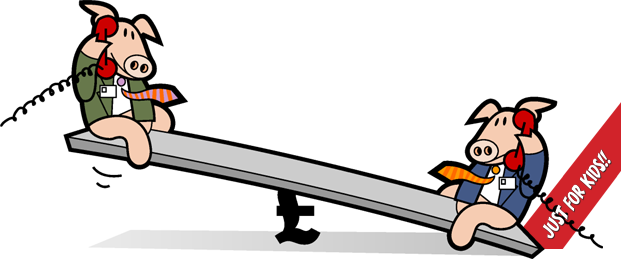 REGISTER FREE
TO PLAY & WIN!

Top Trader Wins
£250 Voucher

Four runners up get
fab PIGGYBANK® prizes!

TOP TRADERS
Track Your Share News

BBC Business News

Asda grows again after three-year slump (Thu, 17 Aug 2017 12:57:54 GMT)
The Walmart-owned supermarket reports its first quarterly like-for-like sales growth since 2014.

Top Shop bosses out of fashion in Arcadia shake-up (Thu, 17 Aug 2017 12:02:16 GMT)
Sir Philip Green shakes up Top Shop management in a bid to revive his ailing retail empire.

Daily Stormer: Cloudflare drops neo-Nazi site (Thu, 17 Aug 2017 10:32:30 GMT)
Cloudflare no longer protects the Daily Stormer from distributed denial of service attacks.

Apple boss Tim Cook joins Donald Trump condemnation (Thu, 17 Aug 2017 07:04:19 GMT)
Tim Cook slams the President's response to Charlottesville as Apple plans human rights donations.

Pain in Spain: Are tourists still welcome? (Thu, 17 Aug 2017 12:43:30 GMT)
As anti-tourism protests hit Barcelona, can visitors happily coexist with local residents?

UK retail sales growth continues in July (Thu, 17 Aug 2017 10:58:55 GMT)
Strong food sales drove a 0.3% increase in retail sales, while most other categories fell back.

Hyundai vows to produce longer-range electric car (Thu, 17 Aug 2017 08:32:28 GMT)
The Korean carmaker is promising an electric car that can go 500 kilometres for each charge.

Nokia 8 smartphone takes 'bothie' videos (Wed, 16 Aug 2017 18:45:05 GMT)
The phone streams video from its front and rear cameras at the same time to Facebook or YouTube .

Fracking: Shale rock professor says UK gas reserves 'hyped' (Wed, 16 Aug 2017 23:01:40 GMT)
UK shale deposits were formed 55 million years too late to trap large amounts of gas, a professor warns.

National Minimum Wage: Workers win £2m compensation (Wed, 16 Aug 2017 18:00:23 GMT)
The government's latest campaign lists 230 employers who failed to pay the minimum wage.

HBO social media hacked in latest cyber security breach (Thu, 17 Aug 2017 04:56:36 GMT)
Entertainment firm HBO is facing another cyber breach, as it social media accounts are compromised.

Ryanair accuses Lufthansa of Air Berlin 'conspiracy' (Wed, 16 Aug 2017 16:05:24 GMT)
Ryanair accuses Lufthansa and the German government of colluding to carve up the failed airline.

Dulux owner Akzo Nobel strikes truce with activist investor (Wed, 16 Aug 2017 16:37:12 GMT)
Elliott agrees to halt its long-running feud with paint maker Akzo Nobel and suspend legal action.

Walnut wipeout whips up chocolate storm (Wed, 16 Aug 2017 10:19:45 GMT)
Nestle is launching a new version of the Walnut Whip - but without the famous nut on its peak.

'We can't get the skilled staff' (Wed, 16 Aug 2017 16:32:15 GMT)
Stuart Gardner, the boss of British motorbike maker Norton, says that a shortage of skilled employees is holding his firm back.

Will you ever be able to retire? (Mon, 14 Aug 2017 23:04:45 GMT)
With people living longer and saving less, are we living through the death of retirement?

India partition: 'We had to start from zero once again' (Mon, 14 Aug 2017 23:13:38 GMT)
Among the millions affected by India's partition were people with businesses they had run for decades.

India and Pakistan economies: 70 years on (Mon, 14 Aug 2017 13:39:38 GMT)
What has become of India's and Pakistan's economies, 70 years after independence from Britain and partition?

Creating a robot to combat loneliness (Sun, 13 Aug 2017 22:59:01 GMT)
Japanese inventor Kentaro Yoshifuji built his Orihime robot to address the loneliness he felt as a child.

'Baby modelling - why not?' (Fri, 11 Aug 2017 11:54:01 GMT)
An insight into the world of baby and child modelling in South Africa.

How the selfie stick became a million dollar idea (Thu, 10 Aug 2017 23:55:40 GMT)
The BBC's Aaron Heslehurst explains how the selfie stick became a million dollar idea.

Should Nigeria have a national airline? (Fri, 11 Aug 2017 10:30:12 GMT)
The Nigerian government is investing in a national airline but does the country need one?

Cornish fish restaurant named best in the UK (Thu, 17 Aug 2017 10:33:54 GMT)
Port Isaac's Restaurant Nathan Outlaw has pushed the previous winner off the top after five years.

Who is the most successful James Bond? (Thu, 17 Aug 2017 05:34:50 GMT)
How does Daniel Craig compare to the actors who have played 007 before him?

What's in a name? (Wed, 16 Aug 2017 23:23:15 GMT)
China's ban on names such as "scared of wife" or "prehistoric powers" comes after a crackdown on what Beijing regards as strange buildings.

Germany's 'hidden champions' (Wed, 16 Aug 2017 23:27:18 GMT)
Exploring the small and medium-sized firms that are the backbone of Germany's economy.

King's ransom (Tue, 15 Aug 2017 23:00:07 GMT)
Why passing away has done little to deaden the commercial appeal of musical legends like Elvis and their entrepreneurial super fans.

Changing formats (Tue, 15 Aug 2017 23:00:13 GMT)
Hit TV shows are now bought and adapted for different countries around the world in an industry worth billions.

The right note? (Mon, 14 Aug 2017 23:00:38 GMT)
Why hi-resolution sites are music to the ears of fans who want the best possible sound.

Have it your way (Mon, 14 Aug 2017 23:00:44 GMT)
Entrepreneur Lapo Elkann explains how his firm is enticing the rich by customising cars, yachts and private jets.
Post your results on Twitter & Facebook!