BECOME A STAR
PIGGYBANK®FUN
d

MANAGER™
Join OINK!'s fab business game, the
PIGGYBANK® Fantasy Stock Exchange™
supported in real time by the
London Stock Exchange!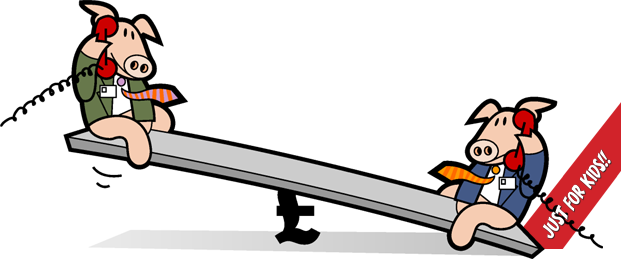 REGISTER FREE
TO PLAY & WIN!

Top Trader Wins
£250 Voucher

Four runners up get
fab PIGGYBANK® prizes!

TOP TRADERS
Track Your Share News

BBC Business News

Two thirds of firms yet to publish gender pay gap data (Wed, 21 Mar 2018 01:16:54 GMT)
About 70% of companies have still not revealed the difference in what they pay male and female employees.

Tens of thousands still missing out on pension perks (Wed, 21 Mar 2018 01:19:08 GMT)
A report suggests that 90% of people eligible are failing to claim National Insurance Credits.

Facebook shares slip as scrutiny continues (Tue, 20 Mar 2018 19:14:03 GMT)
Investors are reacting to calls for tighter regulation of tech firms from politicians in the US, UK and Europe.

BMW headquarters searched by police in emissions raid (Tue, 20 Mar 2018 19:36:19 GMT)
German prosecutors are probing whether BMW used illegal emissions control software.

Toyota suspends US driverless car tests after fatal Uber accident (Tue, 20 Mar 2018 21:03:12 GMT)
The car giant cited the "emotional effect" of a recent accident in Arizona involving an Uber autonomous vehicle.

Bumble swipes back at Tinder owner Match in patent spat (Tue, 20 Mar 2018 20:07:06 GMT)
Bumble, which was started by former Tinder executives, has responded to a patent suit brought by Tinder's parent company.

Inflation eases to 2.7% on falling petrol prices (Tue, 20 Mar 2018 13:15:44 GMT)
Consumer price inflation falls from 3% as fuel prices fall and food costs rise more slowly.

Google pledges $300m to support journalism and fight fake news (Tue, 20 Mar 2018 16:59:47 GMT)
The search giant says it will help news organisations to fight fake news and grow their businesses.

Should social media stars face tougher advertising rules? (Tue, 20 Mar 2018 13:00:24 GMT)
The regulator says social media stars are still not clearly labelling advertising in posts.

Rent-to-own firm pays compensation to 37,000 customers (Tue, 20 Mar 2018 11:49:41 GMT)
Thousands of customers were given loans they could not afford, the City regulator says

Heaven can't wait: Church of England offers faster way to pay (Tue, 20 Mar 2018 12:19:52 GMT)
Over 16,000 churches will be able to use cashless systems to help members make payments and donations.

US retail giants ask Trump to reconsider China tariffs (Tue, 20 Mar 2018 08:37:25 GMT)
The potential tariffs could affect a list of as many as 100 products including shoes and footwear.

Access to work: Funding increase for disabled workers (Tue, 20 Mar 2018 13:04:14 GMT)
The cap on funding will increase by £15,000 as the government aims to help more disabled people into work.

A third of Easter egg weight can be packaging, Which? says (Tue, 20 Mar 2018 00:01:53 GMT)
Chocolate makers still use a lot of packaging, Which? says, but much of it can be recycled.

Michael Sheen takes aim at high cost of rent-to-own (Tue, 20 Mar 2018 16:01:40 GMT)
Michael Sheen wants "fairer alternatives" to mainstream rent-to-buy firms and payday lenders.

Facebook value drops by $37bn amid privacy backlash (Mon, 19 Mar 2018 20:56:20 GMT)
Politicians call on the social network to testify over its protection of user data.

Weinstein Company files for bankruptcy (Tue, 20 Mar 2018 04:44:03 GMT)
It comes just months after sexual assault allegations against company co-founder Harvey Weinstein.

'Irresponsible' company bosses face government crackdown (Tue, 20 Mar 2018 01:25:22 GMT)
Plans include clawing back money for workers and suppliers by reversing asset sales by struggling firms.

Working dads lose out in workplace, say MPs (Tue, 20 Mar 2018 06:43:55 GMT)
Many fathers want to share childcare but fear asking for flexible work, says report.

Uber halts self-driving car tests after death (Tue, 20 Mar 2018 12:35:51 GMT)
A pedestrian was killed after being hit by a self-driving Uber car in Arizona.

John Lewis boss: There's still a role for shops (Mon, 19 Mar 2018 19:21:43 GMT)
As John Lewis opens its 50th store, boss Paula Nickolds says how customers use shops is changing.

Channel 4 has gender pay gap of 24.2% (Mon, 19 Mar 2018 18:03:28 GMT)
The figure is higher than the national average, despite the broadcaster's staff being 60% female.

Street2Boardroom enters the corporate world (Tue, 20 Mar 2018 08:08:24 GMT)
Entrepreneur who wants skills learned on the streets to become legitimate business use links up with multimillion pound firm.

'I lost £250,000 on betting machines' (Mon, 19 Mar 2018 18:10:19 GMT)
Terry White lost up to £15,000 per day on fixed odd betting terminals in shops on the high street.

Why are high street restaurants in trouble? (Sat, 17 Mar 2018 00:35:36 GMT)
Why diners seem to have gone cold on mid-market chain restaurants.

'The High Street dying story is overstated' (Mon, 19 Mar 2018 15:40:29 GMT)
The high street is not dying, says Paula Nickolds, managing director of John Lewis.

A better way to care for dementia patients (Fri, 16 Mar 2018 00:15:11 GMT)
Infrared technology and artificial intelligence offer a better way to take care of dementia patients. It can scan their vital signs 24 hours a day.

Energy storage: the power of cold air (Fri, 16 Mar 2018 00:18:53 GMT)
Highview Power uses liquefied cold air to create stored energy. The air is reheated to produce power.

'Beach grabbing erodes our birth rights,' say Mauritians (Fri, 16 Mar 2018 12:03:15 GMT)
Activists on the island of Mauritius are rising up against foreign property developers.

Vanilla pod farmer: 'Timing is everything' (Fri, 16 Mar 2018 12:40:25 GMT)
Known for its sugarcane, Mauritius has also starting farming the more challenging vanilla crop.
Post your results on Twitter & Facebook!