BECOME A STAR
PIGGYBANK®FUN
d

MANAGER™
Join OINK!'s fab business game, the
PIGGYBANK® Fantasy Stock Exchange™
supported in real time by the
London Stock Exchange!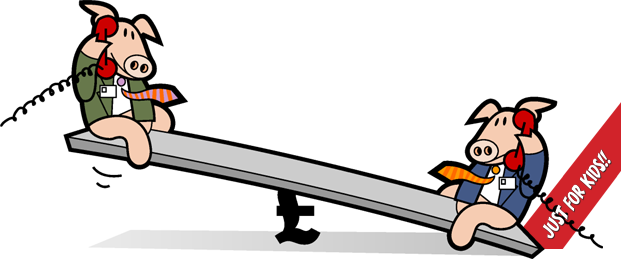 REGISTER FREE
TO PLAY & WIN!

Top Trader Wins £250
Hamleys Voucher

Four runners up get
fab PIGGYBANK® prizes!

TOP TRADERS
Track Your Share News

BBC Business News

Government finances record £9.4bn surplus in January (Tue, 21 Feb 2017 13:02:32 GMT)
Analysts say the government could undershoot the forecast deficit for current financial year.

Bank of England 'has improved' its economic forecasting (Tue, 21 Feb 2017 13:58:20 GMT)
The Bank of England's chief economist admits "sizeable" forecasting errors have been made in the past.

Champagne pops back into Irish CPI basket (Tue, 21 Feb 2017 19:07:06 GMT)
Champagne is making a comeback a decade after the bubble burst for the Republic of Ireland's 'Celtic Tiger' economy.

Verizon and Yahoo agree $350m price cut (Tue, 21 Feb 2017 14:46:54 GMT)
Verizon cuts the price it will pay for Yahoo's core internet business following two huge cyber attacks.

HSBC shares slide after 62% profit fall (Tue, 21 Feb 2017 12:45:50 GMT)
One-off charges, including pulling out of Brazil, hit the global banking giant's annual results.

Asda sales fall continues to slow (Tue, 21 Feb 2017 14:35:32 GMT)
The UK's third largest supermarket chain shows signs of improvement despite another fall in sales.

Burger King owner to buy Popeyes chicken chain for $1.8bn (Tue, 21 Feb 2017 15:41:25 GMT)
Restaurant Brands is to buy the Popeyes Louisiana Kitchen chain for $1.8bn.

Philip Hammond 'listening' to business rates concerns (Tue, 21 Feb 2017 09:59:41 GMT)
Philip Hammond is under pressure to act with some businesses facing "eye-watering" rate rises.

Miners boosted by commodity prices (Tue, 21 Feb 2017 10:28:50 GMT)
Rising commodity prices help two of the world's biggest mining companies report strong profits.

MPs attack ministers' lack of action on gender pay gap (Tue, 21 Feb 2017 00:01:44 GMT)
The Women and Equalities Committee calls government response inadequate and deeply disappointing.

Volkswagen 'fixes 470,000 UK diesel cars' (Mon, 20 Feb 2017 20:15:28 GMT)
VW's top UK executive says most UK cars affected by the diesel emissions scandal are yet to be mended.

London share prices edged lower (Tue, 21 Feb 2017 17:07:55 GMT)
Share prices in London fell back slightly on Tuesday with the FTSE 100 index closing 25 points lower at 7,275.

'No reason to fear' Vauxhall job losses, Clark says (Mon, 20 Feb 2017 17:09:39 GMT)
Takeover talks should not make Vauxhall workers worry about their jobs, the business secretary says.

Greece: EU and IMF in 'common position' (Mon, 20 Feb 2017 18:03:41 GMT)
Germany's finance minister hints that deadlock between the EU and IMF over Greece may be resolved.

Which? says passengers suffering from cabin bag pressure (Mon, 20 Feb 2017 16:15:52 GMT)
Passengers forced to put hand luggage in the hold are losing out, says consumer group Which?

The man championing wheelchair tourism in Brazil (Tue, 21 Feb 2017 00:18:40 GMT)
Brazilian Ricardo Shimosakai is a tourist agent who specialises in finding holiday packages for people with mobility issues.

Who spends $150,000 on a kid's birthday party? (Tue, 21 Feb 2017 00:08:49 GMT)
Children's birthday parties are getting expensive in some countries - but how much would you spend keeping up with the Joneses?

Migrant workers join labour boycott (Mon, 20 Feb 2017 14:48:53 GMT)
Migrant workers have signed up to a labour boycott to highlight the role they play in British society.

CEO Secrets: Sex toy boss shares his tips (Mon, 20 Feb 2017 00:14:08 GMT)
Richard Longhurst, co-founder of Lovehoney, a sex toy business, shares his business advice.

Chippie: My rates are going up 62% (Fri, 17 Feb 2017 10:37:43 GMT)
A fish and chip shop owner explains how the business rate changes affect him

Business rate system 'not fit for purpose' (Fri, 17 Feb 2017 09:01:41 GMT)
British Retail Consortium boss Helen Dickinson says new business rates are not "fit for purpose".

Welcome to 'brand Ireland' (Fri, 17 Feb 2017 11:25:13 GMT)
Colm O'Regan takes a look at national image and, in particular, Ireland as a global brand.

What Facebook's Mark Zuckerberg told the BBC (Thu, 16 Feb 2017 22:32:18 GMT)
Facebook founder Mark Zuckerberg spoke to the BBC's Kamal Ahmed off-camera. What did he tell him?

Single malt Scotch whisky exports top £1bn for first time (Mon, 20 Feb 2017 00:11:46 GMT)
Single malt Scotch whisky tops £1bn worth of exports for the first time in 2016.

SpaceX successfully launches rocket after Saturday setback (Sun, 19 Feb 2017 20:46:20 GMT)
The US rocket company sends a cargo ship to resupply the International Space Station.

Hens housed (Tue, 21 Feb 2017 17:08:55 GMT)
Stickers are appearing on egg boxes to clarify that previously free range hens have been kept indoors.

Finding drugs faster (Tue, 21 Feb 2017 00:08:28 GMT)
How cloud computing is speeding up the development of potentially life-saving drugs.

Baby Ciao (Mon, 20 Feb 2017 00:12:08 GMT)
Catherine Gazzoli is producing a range of organic baby food influenced by her Italian roots.

'Paralysed by grief' (Sat, 18 Feb 2017 23:35:40 GMT)
Facebook last week doubled its bereavement leave allowance for its staff. Employees can now take up to 20 days off on full pay. Is it enough?

Talking to the machine (Mon, 20 Feb 2017 01:47:50 GMT)
The story behind the compiler, a remarkable innovation that made modern computing possible.
Post your results on Twitter & Facebook!