BECOME A STAR
PIGGYBANK®FUN
d

MANAGER™
Join OINK!'s fab business game, the
PIGGYBANK® Fantasy Stock Exchange™
supported in real time by the
London Stock Exchange!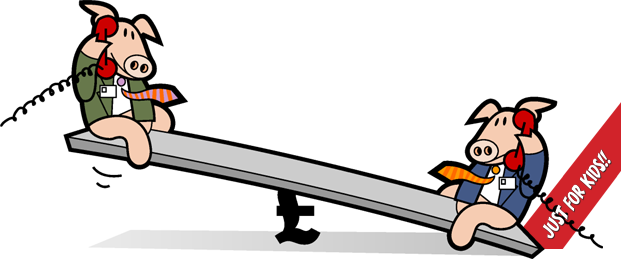 REGISTER FREE
TO PLAY & WIN!

Top Trader Wins
£250 Voucher

Four runners up get
fab PIGGYBANK® prizes!

TOP TRADERS
Track Your Share News

BBC Business News

Sky News faces uncertain future after Disney-Fox deal (Fri, 15 Dec 2017 21:59:24 GMT)
Will Disney want to keep pumping money into a loss-making news channel after the Fox deal?

Cash controversy: The High Streets with too many ATMs (Fri, 15 Dec 2017 21:59:45 GMT)
The cash machine industry and the network are at loggerheads over closure plans.

Unilever sells margarine business to KKR for £6bn (Fri, 15 Dec 2017 16:58:07 GMT)
The Anglo-Dutch firm is selling brands including Flora and ProActiv to the private equity giant.

US tax bill: Republicans agree sweeping changes (Sat, 16 Dec 2017 00:06:16 GMT)
Senate and House lawmakers reveal final details of the biggest change to the US tax code in 30 years.

Ryanair in union offer to avoid Christmas strikes (Fri, 15 Dec 2017 17:55:23 GMT)
The airline says it will recognise pilot unions as it seeks to avoid industrial action at Christmas.

Sky and BT sign channel sharing deal (Fri, 15 Dec 2017 14:48:53 GMT)
BT will supply its sports channels to Sky, while selling Sky's Now TV service to its customers.

Britvic confirms Norwich factory closure (Fri, 15 Dec 2017 20:45:12 GMT)
The manufacturer of Robinsons and Fruit Shoot is to move manufacturing to three other sites.

HS2 redundancy pay 'shocking waste' of taxpayer cash (Fri, 15 Dec 2017 12:11:56 GMT)
Overpayments totalling £1.76m were made to 94 people, a committee of MPs says.

Vodafone offers thousands early contract exit (Fri, 15 Dec 2017 12:36:03 GMT)
The mobile network was not clear enough about new fees, telecoms regulator Ofcom says.

Airbus chief Tom Enders to leave after power struggle (Fri, 15 Dec 2017 14:56:32 GMT)
Chief executive Tom Enders will stand down in 2019 and its chief operating officer will leave in February.

Minimum price 'would increase cost of 70% of alcohol' (Fri, 15 Dec 2017 08:32:58 GMT)
There will be sharp increase in the cost of alcohol if a minimum price is introduced, say researchers.

Families 'struggle' without washing machines (Fri, 15 Dec 2017 09:22:48 GMT)
A charity says some households face an "intolerable struggle" but help is available to replace white goods.

Walt Disney buys Murdoch's Fox for $52bn (Thu, 14 Dec 2017 19:55:01 GMT)
The deal ends Rupert Murdoch's more than half century of media empire building.

Virgin Trains staff hold 24-hour strike (Fri, 15 Dec 2017 13:34:19 GMT)
The walkout by Virgin Trains West Coast workers is the first of a number of UK rail staff strikes.

Japan expands unilateral sanctions against North Korea (Fri, 15 Dec 2017 04:55:04 GMT)
Nearly 20 entities have been targeted as Japan widens its blacklist of companies trading with Pyongyang.

How public relations became a million dollar idea (Fri, 15 Dec 2017 00:17:58 GMT)
The BBC's Aaron Heslehurst explains how public relations became a million dollar idea.

Disney-Fox: Five things it could mean (Thu, 14 Dec 2017 19:28:20 GMT)
The BBC's Andrew Neil has five things the $52.4bn (£39bn) tie-up could mean.

Digitally preserving Africa's artefacts (Fri, 15 Dec 2017 11:55:07 GMT)
The National Museum of Kenya has started a new programme to digitally preserve African artefacts.

My close escape from £10,000 bank scam (Wed, 13 Dec 2017 00:06:07 GMT)
Barry Fox, 72, says he had "a close shave" with scammers when trying to buy a Rolls Royce on eBay.

Turning the cactus into a cash crop (Fri, 15 Dec 2017 11:42:00 GMT)
Food technologist and entrepreneur Dr Evelyn Okoth is turning cactus into a cash crop.

The small jeans firm with a big ambition (Wed, 13 Dec 2017 00:11:43 GMT)
With a workforce of just 15 people, the Hiut Denim Company now sells its jeans around the world from its small factory in rural Wales.

How inflation is hitting Britain's bakers (Tue, 12 Dec 2017 15:11:39 GMT)
Bakery owner John Foster explains how the rising price of imports is affecting his business.

Helping poorer Kenyans pay for healthcare (Tue, 12 Dec 2017 00:13:56 GMT)
Paying for healthcare in Kenya has got easier thanks to M-Tiba, a mobile "electronic health wallet".

The pig farmer taking on Tesco (Thu, 14 Dec 2017 12:08:42 GMT)
Richard Baugh addresses concerns about supermarkets using "fake farm" brands

How Toni Mascolo gave hairdressing a makeover (Wed, 13 Dec 2017 16:06:02 GMT)
Toni Mascolo, with his brother Guy revolutionised hairdressing in London at the end of the last century.

Sleep in a showroom (Fri, 15 Dec 2017 22:00:00 GMT)
Shops are using quirky events and experiences to lure us back to the High Street - but will it work?

Locked out (Fri, 15 Dec 2017 00:12:27 GMT)
The internet of things poses new threats to our security, so how should we be fighting back?

Travelling homes (Thu, 14 Dec 2017 00:19:50 GMT)
In the UK sales of caravan are on the rise. 22,000 were sold in the year to June, a 7% rise on the previous 12 months.

Speak up (Thu, 14 Dec 2017 00:22:11 GMT)
Despite the popular belief that women talk more than men, studies consistently suggest it is men who hog most of the airtime.

Fashion contender (Wed, 13 Dec 2017 00:13:47 GMT)
Despite being based in a small Welsh town, the Hiut Demin Company is exporting its jeans globally.
Post your results on Twitter & Facebook!