BECOME A STAR
PIGGYBANK®FUN
d

MANAGER™
Join OINK!'s fab business game, the
PIGGYBANK® Fantasy Stock Exchange™
supported in real time by the
London Stock Exchange!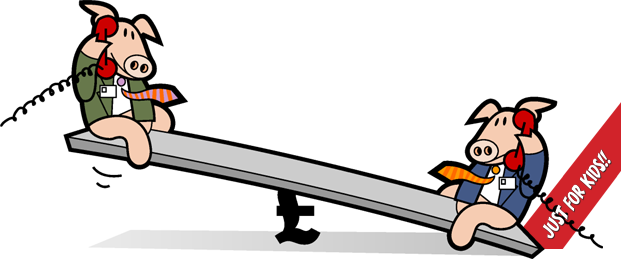 REGISTER FREE
TO PLAY & WIN!

Top Trader Wins £250
Hamleys Voucher

Four runners up get
fab PIGGYBANK® prizes!

TOP TRADERS
Track Your Share News

BBC Business News

Triple-lock: Call for pensions policy to be revamped (Sun, 30 Apr 2017 02:11:29 GMT)
Former pensions minister Steve Webb calls for pension increases that target those most in need.

Green heating system accused of causing 'fuel poverty' (Sun, 30 Apr 2017 00:47:23 GMT)
The government says district heating networks should cut bills, but some say they are beset with problems.

MPs say 'dominance' of big home-building firms must end (Sat, 29 Apr 2017 01:27:41 GMT)
A 'broken' housing market needs a bigger contribution from smaller building firms, MPs say.

UK economy grows by 0.3% as service sector slows (Fri, 28 Apr 2017 09:58:47 GMT)
UK economic growth slowed by more than expected at the start of 2017 as the service sector stalled.

NatWest and RBS banking app fails (Fri, 28 Apr 2017 14:54:55 GMT)
Customers complained on social media that payments and money transfers had not gone through.

US growth rate hits three-year low (Fri, 28 Apr 2017 15:38:31 GMT)
President Trump faces a greater challenge in meeting his growth pledge after weak data.

M&S online food delivery service will be no piece of cake (Fri, 28 Apr 2017 10:21:21 GMT)
The High Street giant prepares to join a crowded market for home delivery but could face problems.

RBS reports first quarter profit as turnaround continues (Fri, 28 Apr 2017 07:59:27 GMT)
The bank returns to profit in the first quarter of 2017 and says its cost-cutting plan is ahead of target.

Qualcomm says Apple withholding royalty payments amid legal row (Fri, 28 Apr 2017 15:07:05 GMT)
Apple sued chipmaker Qualcomm in January and is now withholding payments until the row is resolved.

Amazon 'style assistant' divides opinion (Fri, 28 Apr 2017 13:31:35 GMT)
Amazon's new Echo Look device takes full length photos and offers advice on outfit choices.

'Fire sale' risk with Bank capital approach, says Vickers (Fri, 28 Apr 2017 19:37:59 GMT)
Parliament is investigating whether UK banks have the capital means to keep going during a shock.

Niger 'cleared' over Areva uranium deal (Fri, 28 Apr 2017 16:54:04 GMT)
A group of MPs says French nuclear giant is solely responsible for a controversial $320m deal.

Barclays profits more than double (Fri, 28 Apr 2017 07:48:14 GMT)
The bank reports a big rise in profits for the first quarter, boosted by a healthier core business.

Google and Facebook duped in huge 'scam' (Fri, 28 Apr 2017 10:47:03 GMT)
The two tech firms have confirmed they were tricked out of $100m (£77m) in an alleged scam.

Vauxhall 'reckless' over Zafira fires, say MPs (Thu, 27 Apr 2017 23:00:16 GMT)
It was "morally reprehensible" not to warn customers sooner about a second recall, MPs say.

House prices fell again in April, Nationwide says (Fri, 28 Apr 2017 08:12:24 GMT)
Prices have now fallen for two months in a row, the Nationwide building society says

Barclays pulls FTSE 100 lower (Fri, 28 Apr 2017 11:29:13 GMT)
Shares in the bank drop more than 5% despite it reporting a doubling in profits.

Donkeys in Africa under threat as demand for hides grows (Fri, 28 Apr 2017 13:29:00 GMT)
The use of donkey hides in Chinese traditional medicine has seen Africa's donkey population halve in the past 20 years.

'Rocket man' takes off in flying suit (Thu, 27 Apr 2017 23:01:06 GMT)
British inventor Richard Browning has been testing his flying suit, which he says he has developed as "a bit of fun".

Can 60-year-olds still run a cool business? (Thu, 27 Apr 2017 23:10:16 GMT)
Dare Jennings, founder of the 1980s Australian surf wear brand Mambo, tells the BBC how he's keeping his cool in business.

Is coconut the cream of the milk stars? (Thu, 27 Apr 2017 19:09:18 GMT)
UK sandwich chain Pret A Manger has said that coconut is driving its sales forward - so we went out to conduct a "taste test" to see what flavours get you licking your lips.

Somali trader's life in South Africa (Fri, 28 Apr 2017 07:05:39 GMT)
A Somali shopkeeper now living in South Africa reflects on the good and bad in his new home.

Dairy wars: Why is Trump threatening Canada over milk? (Wed, 26 Apr 2017 18:00:58 GMT)
President Trump has slapped tariffs on Canadian lumber - now he's going after their dairy farmers. Why?

Uber's booming Egyptian market (Wed, 26 Apr 2017 23:12:22 GMT)
Egypt is one of Uber's fastest growing markets. What's behind its success?

A day in Seoul using just Samsung products (Wed, 26 Apr 2017 21:25:05 GMT)
You know it for its phones and TVs, but what else does Samsung do in South Korea?

Brent Delta platform removed from legs (Fri, 28 Apr 2017 18:15:22 GMT)
Brent Delta is the first major piece of infrastructure in the North Sea to be decommissioned.

'Luxury' Fyre Festival is cancelled with ticket-holders still stranded in Bahamas (Fri, 28 Apr 2017 16:46:01 GMT)
A luxury music festival in the Bahamas is postponed after reports of cancelled flights and no security.

Hero's legacy (Sun, 30 Apr 2017 00:07:14 GMT)
Twenty-three years after his tragic death, legendary F1 driver Ayrton Senna is still one of the most valuable brands in sport.

Trumponomics quiz (Fri, 28 Apr 2017 14:48:40 GMT)
Test your knowledge of the first 100 days of Donald Trump's Presidency

No Bank balance (Fri, 28 Apr 2017 16:25:28 GMT)
Deputy governor Charlotte Hogg leaves her post on Friday and its other top woman is off in June - why does the Bank struggle to find top women?
Post your results on Twitter & Facebook!