BECOME A STAR
PIGGYBANK®FUN
d

MANAGER™
Join OINK!'s fab business game, the
PIGGYBANK® Fantasy Stock Exchange™
supported in real time by the
London Stock Exchange!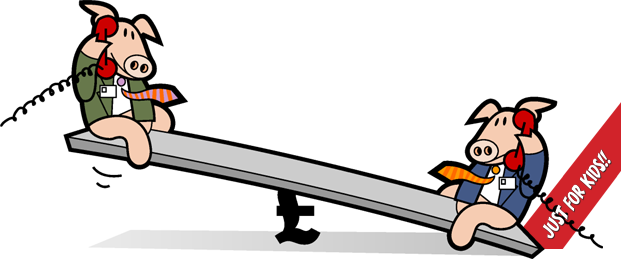 REGISTER FREE
TO PLAY & WIN!

Top Trader Wins
£250 Voucher

Four runners up get
fab PIGGYBANK® prizes!

TOP TRADERS
Track Your Share News

BBC Business News

Call to raise retirement age to at least 70 (Fri, 26 May 2017 12:02:45 GMT)
The looming pensions crisis is as serious as climate change, says the World Economic Forum.

UK achieves solar power record as temperatures soar (Fri, 26 May 2017 15:05:33 GMT)
National Grid says nearly a quarter of all electricity generation came from solar power at one point on Friday.

Tories and Labour not being honest with voters: IFS (Fri, 26 May 2017 14:38:47 GMT)
The Institute for Fiscal Studies says the Conservatives and Labour should own up on economic plans.

US growth rate revised up to 1.2% (Fri, 26 May 2017 18:23:23 GMT)
The US economy grew at a faster pace than initially thought in the first three months of the year.

Walkers Crisps Gary Lineker campaign suffers Twitter sabotage (Thu, 25 May 2017 16:50:34 GMT)
Crisp company's Twitter competition quickly turns into a parade of killers' photos.

New payday loan regulations come into force (Thu, 25 May 2017 23:07:20 GMT)
Payday lenders now have to advertise on at least one price comparison site under new rules.

Contactless payment fraud soars to £7m (Thu, 25 May 2017 23:37:11 GMT)
In some cases, thieves used stolen cards for contactless payments weeks after the card was cancelled.

Pension Regulator website 'now fixed' (Fri, 26 May 2017 07:38:51 GMT)
A computer glitch had threatened to stop thousands of small businesses registering for pensions

UK shares reach new highs as sterling slips (Fri, 26 May 2017 16:07:12 GMT)
The FTSE 100 and FTSE 250 both hit record highs as the pound loses ground.

Gatwick Airport flights depart without luggage (Fri, 26 May 2017 09:48:12 GMT)
The airport is working with airlines to get passengers's luggage to them "as soon as possible".

Frankie & Benny's owner sees shares jump (Fri, 26 May 2017 09:58:18 GMT)
Restaurant Group says its turnaround plan is "progressing well" after the decline in its sales slows.

Amazon's newest bricks and mortar store opens in New York (Thu, 25 May 2017 22:02:32 GMT)
The online retail giant increases its physical presence as its seventh outlet opens for business.

Housing market moving sideways, lenders say (Thu, 25 May 2017 10:28:25 GMT)
Loans worth £18.4bn were advanced in April, a significant drop on the amount borrowed in March.

Fever-Tree founder toasts £73m share sale (Thu, 25 May 2017 11:48:50 GMT)
One of the co-founders of the upmarket mixer drinks maker sells a 3.9% stake in the company.

Amazon opens seventh US bookstore (Fri, 26 May 2017 15:51:56 GMT)
Amazon opens bookstore in New York

Why are so many Sri Lankans learning Chinese? (Thu, 25 May 2017 23:21:14 GMT)
China is behind the bulk of infrastructure development on the island of Sri Lanka - and many young Sri Lankans see opportunity in the growing links between the nations.

Making money-making movies on a budget (Thu, 25 May 2017 16:35:35 GMT)
Film maker Jason Blum explains how you can make money-making movies on a low budget.

Jonathan Ive: UK needs global talent (Thu, 25 May 2017 11:24:19 GMT)
The UK should keep its doors open to global talent after Brexit, Sir Jonathan Ive tells the BBC.

Where is the world's 'cast-off clothes' capital? (Fri, 26 May 2017 11:27:13 GMT)
The city where second-hand clothing from the West is sent to be processed and reversioned for the African market.

What's keeping Indian women from working? (Wed, 24 May 2017 23:10:09 GMT)
Just one in five women in urban areas in India are in paid employment.

Cutting HIV and Aids treatments costs in South Africa (Fri, 26 May 2017 11:07:58 GMT)
Cutting HIV and Aids treatments costs in South Africa with pharmaceuticals from India

Nokia 3310: How long could you survive with a retro phone? (Tue, 23 May 2017 23:10:42 GMT)
Technology correspondent Rory Cellan-Jones swaps his smartphone for the retro Nokia 3310 for a day.

Ancestry.com denies exploiting users' DNA (Thu, 25 May 2017 15:19:32 GMT)
The genealogy service says it is changing its terms and conditions after being criticised.

Boots of Nottingham opens 'historic' digital archive (Wed, 24 May 2017 12:24:11 GMT)
The archive, which has about 20,000 entries, reflects the company's 165 year history.

Trapped in debt (Thu, 25 May 2017 23:21:21 GMT)
China is investing billions in Sri Lanka, but many local citizens feel the country is being sold to the Chinese.

Mapping a new frontier (Thu, 25 May 2017 23:09:51 GMT)
Share Lab uses flow charts and data analysis to map one of the greatest forces shaping our world - Facebook.

Paradise in the Med (Thu, 25 May 2017 21:54:43 GMT)
Malta has tried to shake off claims it is the "Panama of the EU" - but the EU is worried about its tax system.

Bad sex scenes (Wed, 24 May 2017 23:00:09 GMT)
As more and more people listen to podcasts, how can podcast makers make money from what they do?

Proud papa (Wed, 24 May 2017 23:55:48 GMT)
Donald Trump is proposing the first, federal paid family leave law. How far does it go?

'Nothing we could do' (Tue, 23 May 2017 23:00:17 GMT)
Mexico is the world's fourth largest car exporter, but could Donald Trump bring this to an end?
Post your results on Twitter & Facebook!