BECOME A STAR
PIGGYBANK®FUN
d

MANAGER™
Join OINK!'s fab business game, the
PIGGYBANK® Fantasy Stock Exchange™
supported in real time by the
London Stock Exchange!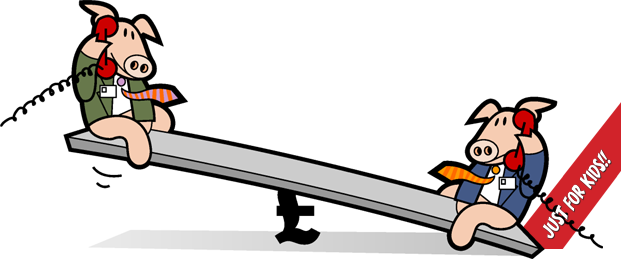 REGISTER FREE
TO PLAY & WIN!

Top Trader Wins £250
Hamleys Voucher

Four runners up get
fab PIGGYBANK® prizes!

TOP TRADERS
Track Your Share News

BBC Business News

Theresa May give details of action plan for British industry (Mon, 23 Jan 2017 15:57:25 GMT)
The PM vows to help key sectors such as pharmaceuticals and boost skills for the post-Brexit economy.

Trump executive order pulls out of TPP trade deal (Mon, 23 Jan 2017 17:49:46 GMT)
"Great thing for the American worker what we just did," says Mr Trump as he drops the pact with a pen stroke.

Lloyds cyber-attack details emerge (Mon, 23 Jan 2017 12:43:45 GMT)
Lloyds Bank was hit by a denial of service attack nearly two weeks ago that disrupted online access.

McDonald's All Day Breakfast eats its lunch and dinner (Mon, 23 Jan 2017 14:51:10 GMT)
McDonald's sales in the US fell on tough comparisons and customers switching to cheaper options

Trump's economic plans: What do we know so far? (Sun, 22 Jan 2017 22:34:14 GMT)
President Trump promised to hit the ground running, so what will his first economic policy steps be?

Women fear CV gaps for career breaks alienate employers (Mon, 23 Jan 2017 15:04:56 GMT)
The belief employers don't want to hire someone with a gap in their CV is the biggest barrier to some women returning to work, a report says.

UK growth 'to slow as economy rebalances' (Mon, 23 Jan 2017 12:57:56 GMT)
The UK will see three years of "relatively slow growth" as it comes to rely more on trade and less on consumer spending, a think tank says.

Trump's election win costs Paddy Power Betfair £5m (Mon, 23 Jan 2017 08:27:34 GMT)
The bookmaker says it lost money on both Donald Trump's victory and December's football results.

Young consumers 'expect better service' (Mon, 23 Jan 2017 00:07:00 GMT)
Customer satisfaction is rising but many 25 to 34-year-olds say getting a complaint resolved is cumbersome.

Samsung confirms battery faults as cause of Note 7 fires (Mon, 23 Jan 2017 07:20:03 GMT)
The firm says neither software nor hardware, other than the batteries, were at fault in Note 7.

FTSE 100 closes lower as pound hits one-month dollar high (Mon, 23 Jan 2017 17:53:12 GMT)
Shares are hit by a rise in sterling against the dollar, as the US currency weakens following Donald Trump's inauguration speech.

New boss announced for ScotRail (Mon, 23 Jan 2017 13:58:11 GMT)
The new managing director of the ScotRail Alliance will be Alex Hynes following the departure of Phil Verster from the role.

iPhone maker Foxconn signals $7bn US investment (Mon, 23 Jan 2017 01:24:13 GMT)
Taiwanese technology giant, Foxconn, confirms it is considering plans to set up a plant in the US.

Brexit: Berlin business leaders unimpressed with UK's message (Sat, 21 Jan 2017 20:44:00 GMT)
An appeal over a post-Brexit trade deal was met with sniggers in Berlin, Damien McGuinness writes.

Samsung reveals cause of Galaxy Note 7 phone fires (Mon, 23 Jan 2017 12:26:07 GMT)
Samsung reveals what caused the overheating and burning of some of its Galaxy Note 7 mobile phones.

Hammond: UK-US ties to 'prosper' under Trump (Fri, 20 Jan 2017 14:40:38 GMT)
Chancellor Philip Hammond says the UK's relationship with the Trump administration will "prosper", but he warns against short-term thinking.

Quentin Willson encouraging the use of electric cars (Mon, 23 Jan 2017 11:12:07 GMT)
Motoring journalist Quentin Willson calls for cheaper and simpler prices to encourage the use of electric cars.

May on UK jobs: 'Very good discussion with banks' (Thu, 19 Jan 2017 17:57:23 GMT)
Prime Minister Theresa May has had "very good, positive discussions" with big banks about how they might be encouraged to stay in the the City of London.

Will Trump's corporate 'tax holiday' plans hit Ireland? (Fri, 20 Jan 2017 10:47:19 GMT)
Proposed tax incentives could encourage some US companies to leave Ireland and return home.

Davos 2017: Teens' virtual reality challenge (Thu, 19 Jan 2017 15:12:45 GMT)
A group of Swiss teens has been invited to take a virtual reality challenge at the World Economic Forum in Davos.

Nigeria's kids' clothing seamstress-turned-entrepreneur (Fri, 20 Jan 2017 12:23:21 GMT)
Adenike Ogunlesi found an exciting market for kids' clothing through her fashion label Ruff 'n' Tumble.

Barclays boss: UK will remain financial lungs of Europe (Thu, 19 Jan 2017 08:54:00 GMT)
Jes Staley, chief executive of Barclays, says the UK will continue to be the "financial lungs" of Europe even after it leaves the EU.

Crunch time for Fox's Biscuits after takeover approach (Fri, 20 Jan 2017 17:03:13 GMT)
Fox's Biscuits could be bought for £350m after owner confirms takeover approach.

Sir Paul McCartney sues Sony over Beatles songs (Thu, 19 Jan 2017 11:16:54 GMT)
Sir Paul McCartney takes legal action against Sony over who controls The Beatles' back catalogue.

Thanks Bill (Mon, 23 Jan 2017 00:11:26 GMT)
How Andy Kuper built investment firm Leapfrog, which aims to help pull people out of poverty in the developing world by investing in insurance and healthcare firms.

Rocking the warehouse (Mon, 23 Jan 2017 00:13:34 GMT)
GreyOrange is India's biggest robotics company, making machines which support the country's booming online retail industry.

Scan for success (Mon, 23 Jan 2017 00:38:03 GMT)
How a design originally drawn in the sand led to the growth of giant supermarkets.

Beware the WTO (Sun, 22 Jan 2017 00:54:25 GMT)
If the UK and the EU are going to have a trade agreement, it is best to get as many sectors covered as possible to reduce the chances of a WTO challenge.

Tempering Trump (Fri, 20 Jan 2017 12:23:06 GMT)
Donald Trump's hand-picked policy advisers have indicated that some of his most controversial campaign promises may never be fully implemented.

'Be brave and naive' (Sun, 22 Jan 2017 01:25:30 GMT)
CEO Secrets asks four founders what it's like to turn a small company into a huge one.
Post your results on Twitter & Facebook!