BECOME A STAR
PIGGYBANK®FUN
d

MANAGER™
Join OINK!'s fab business game, the
PIGGYBANK® Fantasy Stock Exchange™
supported in real time by the
London Stock Exchange!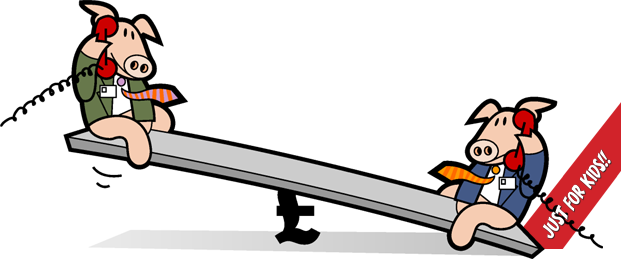 REGISTER FREE
TO PLAY & WIN!

Top Trader Wins
£250 Voucher

Four runners up get
fab PIGGYBANK® prizes!

TOP TRADERS
Track Your Share News

BBC Business News

Holland & Barrett sold for £1.8bn to Russian billionaire (Mon, 26 Jun 2017 09:47:22 GMT)
Russian billionaire Mikhail Fridman buys 1,300-store chain from its private equity owner Carlyle.

Co-operative Bank no longer up for sale (Mon, 26 Jun 2017 06:48:22 GMT)
The bank says it expects to make a further announcement on fund-raising plans to safeguard its future.

Lord Adonis: Brexit delay over Heathrow must end (Mon, 26 Jun 2017 08:35:08 GMT)
Political uncertainty must not hold up Heathrow airport plans, says the top infrastructure adviser.

Growth in personal debt is slowing, says BBA (Mon, 26 Jun 2017 10:16:58 GMT)
The annual rise in loan, card and overdraft borrowing is slowing, but saving levels are at a six-year low.

Gmail to end ad-targeting email scans (Mon, 26 Jun 2017 11:37:39 GMT)
Privacy groups cautiously welcome Google's pledge to end scans of Gmail messages to personalise ads.

Takata: Airbag-maker files for bankruptcy (Mon, 26 Jun 2017 06:14:15 GMT)
Japanese firm faces billions of dollars of liabilities linked to the biggest ever automotive recall.

Italy forced to bail out two more banks for 5.2bn euros (Sun, 25 Jun 2017 18:39:54 GMT)
Rome will spend at least 5.2bn euros to rescue Banca Popolare di Vicenza and Veneto Banca.

Crown Resorts staff jailed for enticing Chinese gamblers (Mon, 26 Jun 2017 12:58:14 GMT)
Three Australian Crown Resorts employees broke the law by enticing Chinese high-rollers to casinos.

FTSE 100 lifted by finance and energy shares (Mon, 26 Jun 2017 11:38:04 GMT)
Rising oil prices lift energy shares while the finance sector is boosted by Italy's bailing out of two banks.

Business confidence on the up, Lloyds survey finds (Mon, 26 Jun 2017 05:57:04 GMT)
But companies are having trouble recruiting skilled workers, the research says.

Energy industry has 'opportunity' to address price cap (Mon, 26 Jun 2017 07:54:33 GMT)
Energy suppliers have a chance to come up with alternatives to capping prices, suggests industry body.

Royal Bank of Scotland to move hundreds of jobs to India (Sun, 25 Jun 2017 14:57:38 GMT)
The move by the state-owned bank will cut nearly 450 UK jobs dealing with loans to small businesses.

Brexit: David Davis 'pretty sure' of free trade deal (Sun, 25 Jun 2017 16:29:24 GMT)
The Brexit secretary also backs Theresa May and agrees a leadership contest would be "catastrophic".

Next boss Lord Wolfson calls for 'smooth' Brexit (Sun, 25 Jun 2017 10:43:14 GMT)
Lord Wolfson warns that a badly managed exit from the EU could lead to "years of economic decline".

'The government's approach to Brexit will not change' (Mon, 26 Jun 2017 15:20:15 GMT)
The government's approach to Brexit will not change, says the cabinet minister for international trade.

CEO Secrets: Bumble founder says don't take yourself too seriously (Sun, 25 Jun 2017 23:15:08 GMT)
Bumble dating app CEO Whitney Wolfe says don't take yourself too seriously.

How I stayed in business during Asian Financial Crisis (Mon, 26 Jun 2017 01:19:31 GMT)
Thai businessman Wasan Benz Thonglor nearly lost everything in the 1997 Asia Financial Crisis.

Brexit: Tory MP Leadsom says broadcasters should be patriotic (Fri, 23 Jun 2017 20:55:31 GMT)
Coverage of Brexit could be more "helpful", Tory MP Andrea Leadsom tells Newsnight's Emily Maitlis.

The start-ups plugging the hole in Zimbabwe's economy (Fri, 23 Jun 2017 20:56:32 GMT)
Against all the odds, some entrepreneurs in Zimbabwe are running successful small businesses.

How safe is your internet router? (Fri, 23 Jun 2017 15:50:30 GMT)
Virgin Media is warning its customers to change the password on their internet routers. A Which? investigation found its Super Hub 2 router is vulnerable to hackers.

London's temporary African-inspired architecture (Fri, 23 Jun 2017 16:00:55 GMT)
Diebedo Francis Kere is the 17th architect to design a temporary pavilion in the grounds of London's Hyde Park.

How Velcro became a million dollar idea (Fri, 23 Jun 2017 11:35:04 GMT)
The BBC's Aaron Heslehurst tells how Velcro was invented after a walk in a wood.

Parliament cyber-attack 'hit up to 90 users' (Sun, 25 Jun 2017 16:01:43 GMT)
Fewer than 1% of 9,000 parliamentary accounts were affected, says the House of Commons.

Sausage roll row: US 'invents' new summer snack (Sat, 24 Jun 2017 17:45:58 GMT)
An American supermarket has created a "new" summer snack that look very familiar to Britons.

A High Street star? (Mon, 26 Jun 2017 14:10:27 GMT)
The Russian billionaire buying the health food chain said he wanted to invest in future stars of the High Street. Does Holland & Barrett fit the bill?

'I love doing battle' (Sun, 25 Jun 2017 23:08:32 GMT)
How hard-hitting Irish-American entrepreneur David McCourt made his fortune in TV and telecoms.

Tricky trade-off (Sun, 25 Jun 2017 23:10:52 GMT)
If rules are too strict, good ideas take too long to spread, but lax regulation risks no innovation.

Big hitters (Fri, 23 Jun 2017 20:58:14 GMT)
The Women's Cricket World Cup gets under way, on a mission to grow as a sport and a business

One year on (Thu, 22 Jun 2017 23:05:31 GMT)
What do economists and businesses think of the aftermath of the Brexit vote, and what do they think the future holds?

Better prospects (Thu, 22 Jun 2017 23:11:05 GMT)
What impact is China's Belt and Road initiative, aimed at boosting trade links, having in Kazakhstan?
Post your results on Twitter & Facebook!