BECOME A STAR
PIGGYBANK®FUN
d

MANAGER™
Join OINK!'s fab business game, the
PIGGYBANK® Fantasy Stock Exchange™
supported in real time by the
London Stock Exchange!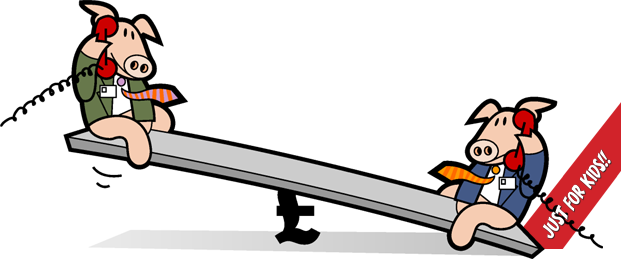 REGISTER FREE
TO PLAY & WIN!

Top Trader Wins
£250 Voucher

Four runners up get
fab PIGGYBANK® prizes!

TOP TRADERS
Track Your Share News

BBC Business News

EU to launch counter-tariffs against US on Friday (Wed, 20 Jun 2018 16:42:58 GMT)
The move comes after President Donald Trump imposed steep duties on steel and aluminium in May.

Poundworld to start 'closing down' sales (Wed, 20 Jun 2018 17:03:43 GMT)
Administrators say that no stores are "definitely closing" and the search for a buyer continues.

Tesla sues former worker for hacking (Wed, 20 Jun 2018 16:24:51 GMT)
Tesla says it has suffered "significant" damages as a result of the alleged theft.

Heineken's Amstel and Smiths beer hit by CO₂ supply shortage (Wed, 20 Jun 2018 15:25:05 GMT)
Carbon dioxide supply problems could leave fans toasting the World Cup feeling flat.

Instagram longer videos: How new IGTV feature will work (Wed, 20 Jun 2018 17:50:24 GMT)
IGTV allows users to create long-form videos in portrait mode that can be up to an hour long.

Disney increases bid for Murdoch's Fox assets (Wed, 20 Jun 2018 13:50:28 GMT)
Disney has raised its offer for 21st Century Fox to $71.3bn in cash and shares, from a $52bn all-stock offer.

Asda and Sainsbury's heads lambasted by MPs (Wed, 20 Jun 2018 14:01:16 GMT)
The two supermarket bosses are accused of talking "baloney" about the impact of their merger.

M&S should look at Amazon tie-up, says Marcus East (Wed, 20 Jun 2018 14:16:05 GMT)
Former executive Marcus East says it would be a good way to "tackle the digital space".

Siemens UK boss says no-deal Brexit does not look good (Wed, 20 Jun 2018 15:40:52 GMT)
Juergen Maier says planning for Brexit is hard because the firm does not know what it is planning for.

Prescott and Conran hospitality group goes bust (Wed, 20 Jun 2018 15:46:27 GMT)
A restaurant and pub chain co-founded by Sir Terence Conran shuts, putting 168 jobs at risk.

32Red hit with £2m penalty for sole problem gambler (Wed, 20 Jun 2018 08:42:11 GMT)
Online gambling firm let one customer deposit £758,000 with no money laundering checks.

British Airways cancels 2,000 'incorrectly' cheap tickets (Wed, 20 Jun 2018 16:06:28 GMT)
Passengers are angry after tickets to Tel Aviv and Dubai were cancelled for being the incorrect price.

Council demanded payment card details via email (Wed, 20 Jun 2018 13:12:29 GMT)
A London local authority requested security codes among other details be sent via a Word document.

'Disastrous' copyright bill vote approved (Wed, 20 Jun 2018 11:05:05 GMT)
Critics call it a "dark day" as an EU committee adopts two controversial changes to copyright law.

Bithumb: Hackers 'rob crypto-exchange of $32m' (Wed, 20 Jun 2018 10:57:53 GMT)
One of the largest crypto-currency exchanges says thieves have seized $31.6m worth of its funds.

Rural residents hang up on mobile banking, regulator finds (Wed, 20 Jun 2018 11:01:24 GMT)
Fewer than a quarter of those living in rural areas use a smartphone for banking, regulator finds.

RBS branch closure reviewer appointed (Wed, 20 Jun 2018 10:43:23 GMT)
The accountants will deliver their findings by September on 10 sites which have been earmarked to shut.

Australia's Telstra to slash 8,000 jobs in cost-cutting drive (Wed, 20 Jun 2018 08:24:25 GMT)
Australia's embattled telecoms giant will cut one in four management jobs by 2022.

Are we in for a beer shortage this summer? (Wed, 20 Jun 2018 17:28:12 GMT)
Why beer, fizzy drinks and meat could be in short supply this summer in the UK.

The personal stylists helping out-of-work women (Mon, 18 Jun 2018 23:53:38 GMT)
Smart Works charity offers styling and interview coaching for women who are struggling to find work.

Transforming Asia's skylines (Mon, 18 Jun 2018 10:52:05 GMT)
The architect behind some of Asia's most spectacular new buildings discusses his designs.

Think about your customers' needs from the start (Mon, 18 Jun 2018 00:30:27 GMT)
Medical app designer: to get your business off the ground quickly, think about your customers' needs right from the start.

Aero engine-maker Rolls-Royce to slash 4,600 jobs (Thu, 14 Jun 2018 17:03:17 GMT)
"A shame for Derby", as Rolls-Royce announces thousands of jobs will go at its headquarters in the city.

This car is on Autopilot. What happens next? (Tue, 12 Jun 2018 16:16:53 GMT)
Semi-autonomous vehicles, which can partly drive themselves, are already on our roads. But experts are worried that drivers don't understand what they can do.

Business owners worried about Network Rail arches sell-off (Mon, 11 Jun 2018 23:32:52 GMT)
Traders tells BBC Radio 5 live they're concerned about rising rents and the local community impact.

President Trump's continued engagement with North Korea raises curiosity over its economy. (Mon, 11 Jun 2018 13:43:06 GMT)
President Trump's continued engagement with North Korea raises curiosity over its economy - how do North Koreans live?

Up in smoke (Tue, 19 Jun 2018 23:06:36 GMT)
After a boom period, the UK's vaping shops face an uncertain future which could see many close.

Refugee or future surgeon? (Tue, 19 Jun 2018 23:50:30 GMT)
On World Refugee Day, one Syrian girl talks about doing homework in a tent and her future ambitions.

Feeling the heat? (Mon, 18 Jun 2018 23:01:20 GMT)
As demand for air conditioning goes through the roof, what are the implications for our planet?

Cancer and career (Sun, 17 Jun 2018 23:35:16 GMT)
How one entrepreneur had to quit work to battle cancer, leaving his co-founder to grow their company on his own.
Post your results on Twitter & Facebook!