BECOME A STAR
PIGGYBANK®FUN
d

MANAGER™
Join OINK!'s fab business game, the
PIGGYBANK® Fantasy Stock Exchange™
supported in real time by the
London Stock Exchange!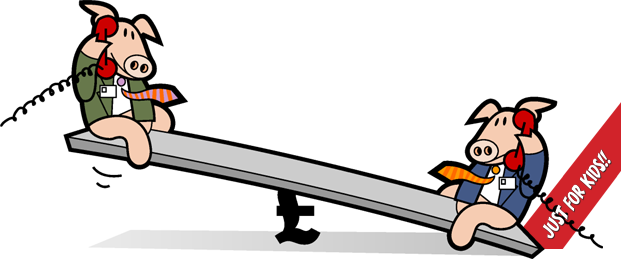 REGISTER FREE
TO PLAY & WIN!

Top Trader Wins
£250 Voucher

Four runners up get
fab PIGGYBANK® prizes!

TOP TRADERS
Track Your Share News

BBC Business News

Rail timetables overhaul aims to boost frequency and reliability (Sun, 20 May 2018 11:42:32 GMT)
One of the biggest rail timetable overhauls ever in the UK is predicted to create winners and losers.

New tougher MOT tests come into force (Sun, 20 May 2018 08:36:03 GMT)
Rules will introduce new categories for defects and tougher tests on diesel emissions.

China agrees to import more goods and services from US (Sun, 20 May 2018 09:33:06 GMT)
Although no specific numbers are given, the agreement may dampen fears of a looming trade war.

Ocado delivers for 'patient' investors (Sat, 19 May 2018 01:51:14 GMT)
For years the online retailer was a disappointing loss-maker, but a deal in the US has ignited the shares and confounded critics.

Royal wedding 2018: Who's paying? (Thu, 17 May 2018 22:38:58 GMT)
Security will be the biggest expense, but precise costs are hard to count.

Glencore shares fall on DRC probe fears (Fri, 18 May 2018 14:30:20 GMT)
A report says the mining giant could face an investigation from the Serious Fraud Office.

Smart luggage firms close because of airline battery rules (Fri, 18 May 2018 12:19:10 GMT)
Two firms have closed this month, citing changes in airline policies on carrying batteries.

Airbnb to report homeowners' income to Danish tax authorities (Fri, 18 May 2018 10:56:57 GMT)
The rental site will report homeowners' income to the Danish tax authorities in the first deal of its kind.

'Girl Fund' to invest in gender diverse companies (Fri, 18 May 2018 07:53:09 GMT)
Legal and General's fund will focus on firms who score highly in areas such as women on boards.

Cambridge Analytica starts bankruptcy proceedings in US (Fri, 18 May 2018 09:31:27 GMT)
The firm at the centre of the Facebook data row has filed legal papers that will see it wound up.

PayPal acquires Swedish payments firm iZettle (Thu, 17 May 2018 23:02:54 GMT)
The move will boost PayPal's in-store presence as competition in the digital payments sector grow.

TGI Fridays workers walk out over tips and wages (Thu, 17 May 2018 23:01:46 GMT)
Staff at two branches of the American diner are striking over tips and pay rates.

Broadband speeds 'far slower than in ads' (Thu, 17 May 2018 23:03:02 GMT)
The findings from Which? come ahead of a major overhaul in how providers can advertise broadband speeds.

Iran nuclear deal: EU moves to avoid impact of US sanctions (Fri, 18 May 2018 11:06:36 GMT)
The bloc is resurrecting an old statute in order to protect billions of dollars of investment in Iran.

CBS loses initial battle with shareholder (Fri, 18 May 2018 00:13:45 GMT)
CBS is up against the Redstone family, its biggest shareholder, in a fight for control of the firm.

China drops sanctions probe into US sorghum imports (Fri, 18 May 2018 04:26:08 GMT)
Beijing and Washington are currently in talks to avoid the escalation of a trade war.

Ocado shares rise 44% on news of Kroger tech deal (Thu, 17 May 2018 16:12:45 GMT)
The online grocer has signed a deal to supply its technology to US retail giant Kroger.

Gordon Ramsay's restaurant group reports loss as sales fall (Thu, 17 May 2018 10:54:53 GMT)
The high profile restaurant group has suffered lower sales and plans to close its London venue, Maze.

How the video game became a million dollar idea. (Fri, 18 May 2018 10:09:14 GMT)
The BBC's Aaron Heslehurst tells us how the video game became a million dollar idea.

'I know all about AK-47s - and now apples!' (Fri, 18 May 2018 11:07:06 GMT)
Errol April is a soldier-turned-apple farmer who believes in redistributing land in South Africa.

'The economic crisis killed my father' (Thu, 17 May 2018 23:09:16 GMT)
Argentina has had to ask the IMF for help again. This has brought bad memories of previous crises to the citizens of Buenos Aires.

'We do custom artwork on our skateboards' (Fri, 18 May 2018 10:49:26 GMT)
Former professional skateboarder Kent Lingeveldt has turned his sport into a business.

Mothers at a shopping centre in Greenwich in London give their verdicts on Mothercare (Thu, 17 May 2018 10:12:35 GMT)
Mothers at a shopping centre in Greenwich in London say other stores are better at catering for young children.

Are tumble dryers still a fire risk? (Wed, 16 May 2018 14:44:32 GMT)
After five million tumble dryers made by Whirlpool were identified as a fire risk, the company started fixing them. But some users claim their fixed dryers have caught fire.

Why is Spanish Iberico cured ham so expensive? (Wed, 16 May 2018 11:17:45 GMT)
A single leg costs hundreds of pounds and increasing demand is pushing prices up.

Robert De Niro opens new restaurant (Wed, 16 May 2018 10:05:36 GMT)
The Oscar-winning actor and entrepreneur has begun a new business venture in east London.

Expensive remittances (Thu, 17 May 2018 23:22:34 GMT)
New apps are bringing a greater range of services and features to the vital flows of money to families around the world

Carbon rocks (Thu, 17 May 2018 23:14:29 GMT)
A high-tech solution being tested in Iceland gets rid of waste carbon dioxide by pumping it 1,000m underground.

'It would be a disaster' (Wed, 16 May 2018 23:00:30 GMT)
Worried Texan businesses call on Trump not to walk away from the free trade agreement between the US, Mexico and Canada.

Peace mission (Tue, 15 May 2018 23:09:46 GMT)
Farc guerillas have returned home, but they are often illiterate and unemployed and in urgent need of new skills for jobs.
Post your results on Twitter & Facebook!