BECOME A STAR
PIGGYBANK®FUN
d

MANAGER™
Join OINK!'s fab business game, the
PIGGYBANK® Fantasy Stock Exchange™
supported in real time by the
London Stock Exchange!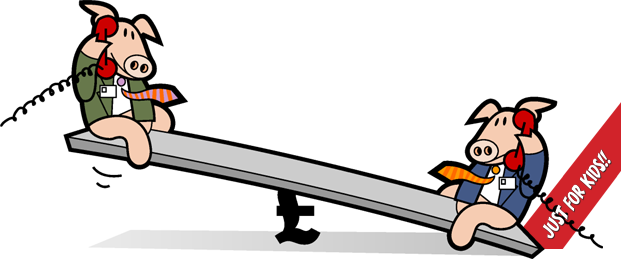 REGISTER FREE
TO PLAY & WIN!

Top Trader Wins
£250 Voucher

Four runners up get
fab PIGGYBANK® prizes!

TOP TRADERS
Track Your Share News

BBC Business News

Ryanair pilots reject bonus to work through cancellation crisis (Wed, 20 Sep 2017 22:49:44 GMT)
Pilots had been offered cash to work extra days after the airline was forced to cancel thousands of flights.

Consumers told to stop buying 'fire-risk' fridges (Wed, 20 Sep 2017 23:00:37 GMT)
The consumer group wants manufacturers to stop making fridges with flammable plastic backs.

Google signs $1.1bn HTC smartphone deal (Thu, 21 Sep 2017 04:18:42 GMT)
The tie-up marks the latest push by Google to boost its hardware business.

Brexit 'crunch time' for City of London, says group (Thu, 21 Sep 2017 01:21:01 GMT)
UK firms and the economy as a whole need a Brexit transition period, City lobby group warns.

'One in four drivers' still make or receive calls while driving (Wed, 20 Sep 2017 23:03:29 GMT)
A survey suggests 23% make or receive calls illegally, but the number is falling.

Fed to start unwinding bond portfolio (Wed, 20 Sep 2017 22:58:44 GMT)
The Fed will start to reduce its $4.2trn balance sheet in October.

Thomas Cook pilots to strike on Saturday (Wed, 20 Sep 2017 18:00:08 GMT)
Thomas Cook pilots to strike at the weekend after talks fail in a continuing pay dispute.

Dominic Chappell denies BHS probe charges (Wed, 20 Sep 2017 17:22:40 GMT)
Dominic Chappell pleads not guilty to charges brought by the Pensions Regulator after the collapse of BHS.

Toshiba to sell chip unit for $18bn to plug losses (Thu, 21 Sep 2017 01:59:47 GMT)
The embattled electronics firm hopes the deal will cover heavy losses from its nuclear division.

Ryanair compensation info 'woefully short' says Which? (Wed, 20 Sep 2017 18:43:03 GMT)
Ryanair says it has now emailed all customers advising them of flight changes and offering refunds.

Rise in female workers suppressing wages, says OECD (Wed, 20 Sep 2017 12:38:44 GMT)
A rise in the number of lower-paid female workers has held back global wage growth, the OECD says.

Tata Steel Thyssenkrupp merger: Safeguard Welsh jobs call (Wed, 20 Sep 2017 14:51:35 GMT)
The tie-up between Tata - which owns Port Talbot steel works - and a German firm will lead to job losses.

NotPetya cyber-attack cost TNT at least $300m (Wed, 20 Sep 2017 13:24:43 GMT)
Delivery company FedEx says a recent cyber-attack cost its TNT division about $300m (£221m).

'We are planning weekly rocket launches' (Wed, 20 Sep 2017 18:05:20 GMT)
The small satellite industry is the fastest growing part of the space sector "and they all require launch" says Rocket Lab boss Peter Beck.

Will 'Philippine McDonald's' swallow Pret? (Tue, 19 Sep 2017 09:38:35 GMT)
Philippine fast food chain Jollibee does not rule out bid for upmarket UK sandwich firm Pret a Manger.

Martin Lewis explains your Ryanair cancellation rights. (Mon, 18 Sep 2017 14:27:13 GMT)
Personal finance expert Martin Lewis explains what rights consumers have during the Ryanair pilot shortage.

CEO Secrets: "Think what could go wrong" (Sun, 17 Sep 2017 23:13:44 GMT)
Equitable Life's Chris Wiscarson on how he's managing the pension fund after its shock collapse.

Meet the woman setting up 'tribes' of business women (Sun, 17 Sep 2017 23:12:27 GMT)
Catherine has created 'tribes' of business women to help them form a network to connect with each other.

Angola's 'suitcase traders' (Fri, 15 Sep 2017 14:24:57 GMT)
The entrepreneurial Angolan women travelling to Rio de Janerio and Sao Paulo in search of Brazilian clothes to bring home and sell.

Putting a price on a 'good reputation' (Fri, 15 Sep 2017 14:07:00 GMT)
The BBC's Lerato Mbele looks at how African companies protect their brands.

Lehman Brothers: Failed bank or malt whisky? (Fri, 15 Sep 2017 11:54:54 GMT)
The Lehman Brothers brand is back, but this time on a whisky bottle.

Seen a gig recently? You're not the only one (Wed, 20 Sep 2017 09:07:40 GMT)
A record 30 million gig and festival tickets were sold in the UK last year, new research shows.

London venue is UK's first to use digital-only ticketing (Wed, 20 Sep 2017 06:13:27 GMT)
Islington Assembly Hall will now only sell tickets through a ticketing app in a bid to cut out touts.

Cork questioned (Wed, 20 Sep 2017 23:09:40 GMT)
As an increasing number of vineyards and wineries seal their bottles with screw-caps, the natural cork industry is fighting back.

'We prefer American style' (Tue, 19 Sep 2017 23:11:30 GMT)
How a new breed of American-style coffee shops are drawing in younger Italians.

Right to speak (Wed, 20 Sep 2017 10:19:05 GMT)
Free speech has become a university battleground. But what does the right to free expression really mean?

Slow drive? (Mon, 18 Sep 2017 23:11:18 GMT)
Electric cars have had a lot of publicity recently, but petrol and diesel engines are far from dead yet.

Pyramid selling (Mon, 18 Sep 2017 23:15:17 GMT)
Low levels of education have fuelled the spread of illegal and harmful pyramid schemes in rural China.

Ryanair cancellations (Mon, 18 Sep 2017 16:21:44 GMT)
The Civil Aviation Authority advises passengers not to cancel their flights themselves.

Rebel to geek (Sun, 17 Sep 2017 23:18:32 GMT)
Daniel Hegarty left school with nothing to become a successful musician playing with top acts - so how did he end up as a tech entrepreneur?
Post your results on Twitter & Facebook!