BECOME A STAR
PIGGYBANK®FUN
d

MANAGER™
Join OINK!'s fab business game, the
PIGGYBANK® Fantasy Stock Exchange™
supported in real time by the
London Stock Exchange!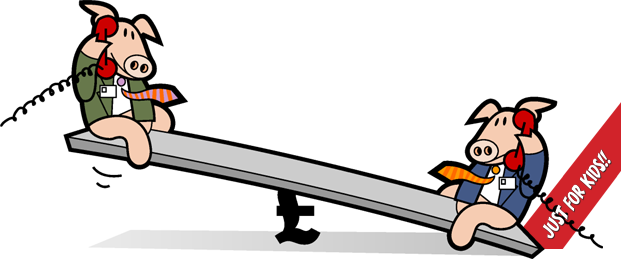 REGISTER FREE
TO PLAY & WIN!

Top Trader Wins
£250 Voucher

Four runners up get
fab PIGGYBANK® prizes!

TOP TRADERS
Track Your Share News

BBC Business News

Amazon and eBay warned by MPs about VAT fraudsters (Tue, 17 Oct 2017 23:26:50 GMT)
The websites are accused by MPs of profiting from sellers who do not charge the tax on UK sales.

Sainsbury's to cut 2,000 jobs in cost-saving drive (Tue, 17 Oct 2017 18:30:15 GMT)
The UK supermarket plans to cut jobs in human resources as part of a £500m cost-saving plan.

Harvey Weinstein 'steps down from company board' (Tue, 17 Oct 2017 21:05:54 GMT)
Harvey Weinstein was fired from his company over sex allegations but had stayed on its board.

How wide is Aldi and Lidl's appeal among the better off? (Tue, 17 Oct 2017 23:18:55 GMT)
As supermarkets fight tooth and claw for our custom how widely do discounters appeal to the better off?

UK inflation at highest since April 2012 (Tue, 17 Oct 2017 10:50:26 GMT)
Increases in transport and food prices push inflation to the highest rate for more than five years.

How do you solve a problem like debt? Your questions answered (Tue, 17 Oct 2017 16:09:43 GMT)
We asked a debt expert your questions about debt.

Reversing Brexit would boost economy, says OECD (Tue, 17 Oct 2017 11:43:29 GMT)
The global economic body says staying in the EU would have "significant" positive impact on growth.

Dow Jones index eases back from 23,000 milestone (Tue, 17 Oct 2017 20:18:57 GMT)
The benchmark US share index hit the new milestone before finishing just below 23,000 points.

House prices: Have they actually gone up in your neighbourhood? (Tue, 17 Oct 2017 09:16:30 GMT)
House prices are lower in real terms in many areas than 10 years ago. Use our calculator to find out how your neighbourhood has fared.

Legoland owner warns of terrorism impact to its profits (Tue, 17 Oct 2017 13:27:34 GMT)
Shares of Merlin Entertainment tumble 20% after the firm forecasts flat growth for this year.

Goldman Sachs results beat forecasts despite bond trading hit (Tue, 17 Oct 2017 15:19:27 GMT)
Third quarter profits at the US banking giant fall, but its results were not as bad as expected.

FCA agrees to RBS report scrutiny (Tue, 17 Oct 2017 13:25:33 GMT)
A committee of MPs had threatened to force publication of the report if the FCA did not agree.

Bombardier to partner Airbus on C-Series jets (Tue, 17 Oct 2017 13:14:10 GMT)
The European aerospace firm is to take a majority stake in Bombardier's C-Series jet project.

Asos profits surge as overseas sales boosted by weak pound (Tue, 17 Oct 2017 07:43:39 GMT)
The online fashion retailer's international sales have been boosted by the fall in sterling.

Vanguard boss warns on stock market highs (Mon, 16 Oct 2017 23:23:17 GMT)
One of the world's biggest investors says there could be a "decent-sized" fall in stock markets.

Putting Canadian wine on the map (Tue, 17 Oct 2017 23:41:04 GMT)
How the wines of Canadian winemaker Norman Hardie are winning a growing number of fans around the world.

What has China's president Xi Jinping achieved so far? (Tue, 17 Oct 2017 23:22:39 GMT)
Chinese president Xi Jinping will be confirmed for a second five-year term this month.

Bricks and mortar shops are cashing in on online shopping (Mon, 16 Oct 2017 12:24:08 GMT)
The rise of online shopping has turned retail upside down but innovative retailers are combining online and offline shopping.

Master brewer: My rookie error (Sun, 15 Oct 2017 23:45:09 GMT)
Grain Brewery's founder Phil Halls thought that making beer was easy, but could he overcome his early problems before his business folded?

A brief history of the old pound coin (Sat, 14 Oct 2017 23:10:28 GMT)
A brief history of the old pound coin as it drops out of circulation on Monday.

Swipe, scan and go: Staffless, cashless stores (Thu, 12 Oct 2017 15:23:05 GMT)
Developments in self-driving vehicles, mobile payments, data analysis and wireless tagging of stock could all completely change our shopping experience.

How Blu Tack became a million dollar idea (Thu, 12 Oct 2017 23:19:39 GMT)
The BBC's Aaron Heslehurst explains how Blu Tack became a million dollar idea.

Trouble brews for Darjeeling tea (Thu, 12 Oct 2017 12:49:22 GMT)
Darjeeling tea may become more difficult to get hold of. Political unrest halted production for three month this year and this has hit India's entire tea industry.

Google removes cupcake calorie counter from Maps (Tue, 17 Oct 2017 11:08:47 GMT)
Feature showed users how many calories they would burn if they walked to destination.

Ikea: why we have a love-hate relationship with the Swedish retailer (Mon, 16 Oct 2017 23:53:45 GMT)
The Swedish furniture giant has been in the UK for 30 years, and earned both fans and critics.

Wine on the edge (Tue, 17 Oct 2017 23:41:31 GMT)
How Canadian winemaker Norman Hardie is able to make award-winning wines, despite winter temperatures so cold it can kill his vines.

Health risks (Tue, 17 Oct 2017 23:24:22 GMT)
Health risks and job losses are among the harms many in China face in the push for economic change.

Toughest lessons (Tue, 17 Oct 2017 23:46:33 GMT)
A student who faced torture and imprisonment in Syria's civil war is starting her life again at a university in Canada

Sweet success (Mon, 16 Oct 2017 23:30:42 GMT)
What's the best way to sell online? And how do you make sure your website really works?

Poison purifiers (Mon, 16 Oct 2017 23:20:31 GMT)
The social entrepreneurs innovating a clean water solution for Bangladesh's arsenic poisoning crisis
Post your results on Twitter & Facebook!